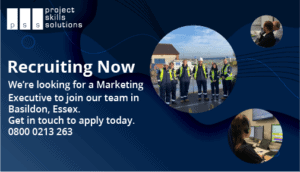 Digital Marketing Executive Vacancy Description
We are looking to recruit an ambitious and driven Digital Marketing Executive with a broad range of marketing skills particularly with excellent PPC & SEO skills who is looking to advance their career and join us on our amazing journey of development and growth. Our range of services across two divisions is totally unique and will provide exciting challenges with no two days the same. Check our websites to see our diversity (www.projss.co.uk and https://pssinstallations.co.uk)
Our head office in Basildon supports our training venues across the UK with courses running every week our digital marketing is essential to ensure courses run at capacity.
Established in 2004 we can offer employment stability and we have ambitious growth plans with exciting projects and new services that require us to build our marketing team with people who share that ambition and drive. You will be fully supported and encouraged in your career development to become a valuable member of our marketing team.
We are an innovative company investing in technology and software systems to develop our training & installation services to be World-class.
It is our intention for the scope of this role to develop into a team so may lead to future management opportunities for the right candidate or applicants who have held a management position.
The Digital Marketing Role
This is hugely varied and an exciting opportunity for an ambitious experienced digital marketing executive. Innovation is key to our company's growth and development. So you must be driven and thrive on challenges and are happy to juggle multiple projects.
It is our intention for the scope of this role to develop into a team. So this may lead to future management opportunities for the right candidate.
Scope of Role includes
You will be responsible for helping define and deliver the digital marketing strategy for the company. Furthermore, you will have responsibility for the 4 websites promoting the services of our two divisions. Our sites are e-commerce and are currently being developed with our new e-learning & Virtual delivery.
Primary Digital Marketing Skills Required
· Develop and maintain the SEO on-page optimization of all sites to improve keyword ranking, quality score, URLs, keywords, meta tags, internal structure & links, etc.
· Plan and manage PPC (paid search) activity across the business to hit sales and ROI targets
· Create content (understanding Copywrite and plagiarism) attracting customers and growing our brand.
· Deliver regular campaign analysis drawing on relevant reports including (but not limited to) Google Analytics.
· Develop our social media presence being able to assess options for suitability to our services.
· Stay up-to-date with digital developments and generate new ideas to draw the audience's attention
Secondary Skills Preferred
· You will have a basic understanding of web design HTML5, HTML, and CSS. So you can work alongside our web team to improve our technical SEO.
· Experience using common IT and marketing platforms and tools (Word Press, Google Ads, and Analytics, Microsoft Office, Adobe)
Ideal Marketing Candidate
· 3 to 5 years experience working in a marketing role either in-house or agency side.
· Creative and have a keen eye for design and love coming up with ideas.
· Can work effectively alone and in a team.
· You will have great communication skills to work well with external partners Web developers, E-learning developers, etc.
· Can manage priorities to meet targets.
· Keen to learn and stay current with emerging techniques and technology.
· Degree qualified or a proven ability through your career experience to meet our requirements.
· You must be based in easy traveling distance of Basildon where this role is based.
What we will offer you
· Competitive Salary £25,000 to £30,000 subject to experience.
· 28 days Holiday (incl B/H)
· Pension
· Private Health Care Package
· The opportunity to both work in and develop your career in an exciting, thriving environment.
Project Skills Solutions have huge ambitions for 2021 and beyond so if you like what you see and want to be part of that, then apply now!
For registration purposes please could you let us know:-
where you are currently based
required salary
notice period.
Please note that unfortunately, we will only be able to reply to successful applicants.
To Apply then you can contact us on 0800 0213 263 e-mail sambarton@projss.co.uk or contact us