For those of you working within the electrical industry such as electricians and engineers, you've probably heard of the BS 7671 18th Edition Wiring regulations. The 18th Edition BS 7671 is the British Standard for wiring regulations, in which electrical engineers and electricians must follow. The 17th Edition provides the set of national standards which all UK home and industrial wiring must comply to.
However, the 18th edition of wiring regulations had been under preparation and replaced the 17th edition on July 1st 2018 – yet it comes into effect on the 1st January 2019. With the new 18th Edition now officially published, it has simply replaced the existing edition with a few amendments being made with new and revised regulations, new chapters and a restructured section. But what changes have been made? In this week's blog, we'll be discussing the key changes that have been made…
1. RCD Protection
RCD Protection. What is it? Well an RCD is a residual current device and is a life-saving device designed to prevent you from getting an electrical shock. The device offers protection against electrical fires, acting as a safety switch by removing the electrical supply from a circuit when it is unsafe.
The 18th edition will have an increased concern with protective RCDs in a range of installations, leading to a greater need for RCD testers and MFTs. An MFT stands for Multi-Function Tester, which measures all types of electrical parameters with a reliable RCD testing.
With the RCD protection having a greater concern in the new 18th edition, <30mA RCDs will now be a requirement on sockets rated up to 32 A (unless classed as unnecessary by a risk assessment in any other than a dwelling) rather than just a 20 A (411.3.3). They will also be needed on all AC final circuits, supplying luminaries within domestic (household) dwellings (411.3.4).
2. Switching & Isolation
The new chapter 46 of the 18th Edition has been completely revised and deals with general requirements for protection, isolation, switching, control and monitoring and switching measures for the prevention or removals of dangers associated with electrical installations or electrically powered equipment.
3. Earthing Systems
There are numerous changes that have been made to earthing systems contained within the 18th Edition. The regulations with earthing arrangements require additional earth electrodes, supplementing any earthing facility provided by the electricity supplier to prevent the risk of dangerous touch voltage in the event of the loss of the main connection to earth
4. Overvoltage Protection
One of the most significant changes in the 18th edition is the overhaul of Section 443, which deals with overvoltage caused by atmospheric conditions. The criteria considering the potential consequences of lightening strikes has now been implemented. This will expand the scope where protection is required, except on certain single dwelling units and once again these additional systems will need to be thoroughly tested.
5. Specialist Installations
There will be new equipment's for electrical installations in caravan/camping facilities, installations in caravans and motor caravans and electric vehicle charging points.
6. Floor & Ceiling Heating Systems
Sections 753 has been revised and now deals with all embedded electrical systems for surface heating. In addition, other applications such as de-icing and frost prevention are now included within the section and both indoor and outdoor systems are considered.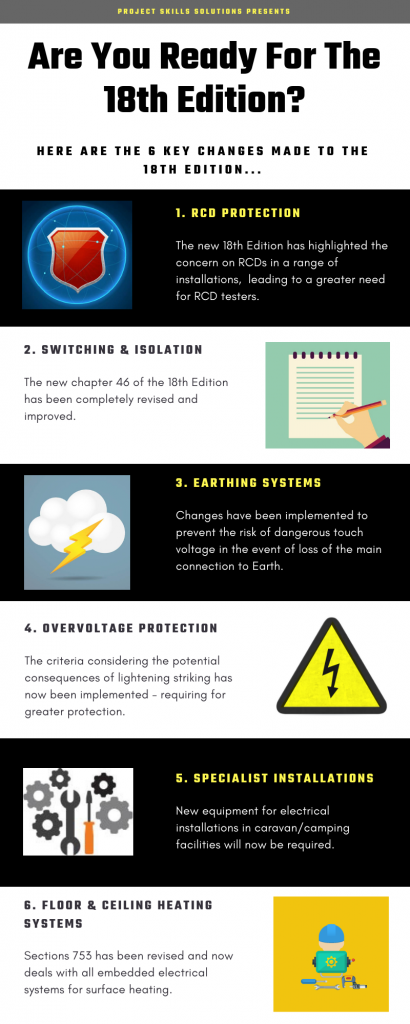 With the 6 key changes that will be made in the 18th Edition, this includes new and revised regulations helping to improve standards. It is important to be updated as electricians and engineers will be expected to follow the new regulations from the 1st of January 2019.