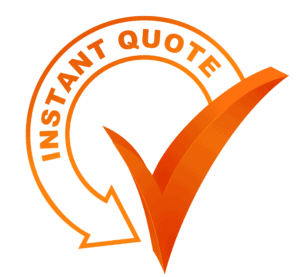 It is vital that buildings are designed, built, and maintained to be electrically safe to ensure the safety of their occupants. So if you require electrical testing and electrical safety certification for any kind of premises you can call on Project Skills Solutions. We carry out EICR electrical safety checks across much of the South of England including Essex, the Home Counties and London. Our electricians carry out electrical testing and certification for all property types helping to keep buildings electrically compliant.
We work with landlords, housing associations, Individuals and property management companies in all aspects of property electrical safety. Whether you have a single building or a property portfolio we can carry out the required electrical test and inspection. Furthermore, with our electricians working across the Southeast and London, we can provide an EICR quickly.
Electrical Testing NICEIC Approved Services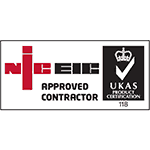 We are an NICEIC approved electrical contractor and have been externally inspected for compliance with the 18th Edition regulations. Depending on the size of the property it can take a few hours to test a flat or house to several days to test industrial premises.
What Electrical testing do I need for a property?
The electrical test that you require involves a qualified electrician carrying out checks on the condition of the electrics in your property. It's much like having an MOT on your car ensuring your electrical wiring is safe.    You may have been looking into electrical testing and come across different terms for this. Here are a few of the different names or terms for electrical testing:
Electrical fixed wire testing
5-year periodic inspection
5-year fixed wire testing
Electrical Installation Condition Report
EICR report
Fixed wire testing
Electrical Testing what does it cost?
When you need an Electrical Installation Condition Report (EICR) you will want to know how much you will pay for this. Below are some typical EICR report costs for electrical installation testing that may help. If you would like a more accurate and detailed quote, then there are other ways we can do this. You can provide us with an old electrical certificate or give us a circuit count, and we can give you an instant quote. Should you have a large building and be unsure of the electrical distribution, no problem, we will carry out a free survey.
Electrical Test & Inspection (EICR) Studio Flat £99+Vat
EICR Testing & Inspection (EICR) 1 or 2-bed Flat £129+Vat
Electrical Test & Inspection (EICR) 3 bed Flat or House £169+Vat
If you would like the EICR Cost for Electrical Safety Certificates (EICR) for multiply properties Call 0800 0213 264
Electrical Test & Inspection (EICR) small office £99+Vat
Electric Testing & Inspection (EICR) 1-8 Electrical Circuits £129+Vat(EICR
Electrical Test & Inspection (EICR) additional circuits above 8 £129+Vat + £10+Vat per additional electrical Circuit
Electric Testing & Inspection (EICR) Properties with 24+ Circuits call 0800 0213 264 for EICR Cost
Electrical Test & Inspection (EICR) of Landlord multiple properties call 0800 0213 264
Electrical Safety Certificate – Fixed Wire Testing Services
Every electrical installation deteriorates with use and age. Just like you get regular services or MOTs of your car, you need to do the same for your electrical wiring installation by carrying out a fixed wiring inspection. It is the landlord's responsibility to ensure that tenant(s), or anyone entering their property, are safe and not put at risk. A periodic electrical inspection checks the condition of an existing electrical installation against BS 7671. This is the UK Standard for the safety of electrical installations.
On satisfactory completion, we will issue you an electrical safety certificate (EICR) for the property. This electrical safety certificate will identify if the installation is satisfactory for continued use.
What Happens if the EICR is unsatisfactory
If the electrical testing EICR is unsatisfactory the landlord has a responsibility to carry out any remedial or further investigation works within 28 days of this report being issued, or a shorter period if specified. The EICR electrical failure Codes are categorized and shown on the report the meaning of each EICR failure code is shown below. An EICR will be issued as unsatisfactory if the EICR contains a C1, C2, or FI code.
C1: Immediate Action Required, Danger Present. This code means that there is a risk of injury and immediate remedial action is required. You will be advised to take immediate action without delay.
C2: Urgent Action Required, this is not as severe as a C1 fault but is still a potentially dangerous defect. Urgent remedial action is still required.
C3: Improvement Recommended,
FI: Further investigation required.
If on completion the EICR is issued as unsatisfactory with C1, C2 or FI codes then we would discuss costs and required remedial actions with the aim of clearing these before we left the premises. When faults are minor again we will advise the cost to repair any electrical faults or issues while on site.
Finally, if we are unable to get approval or limited by time then we will provide a quote and dates for a return visit to complete the remedial works and EICR completion.
This electrical certificate EICR will be valid for 1 – 5 years depending on the property type. Below is information on what electrical inspection period applies to your property type.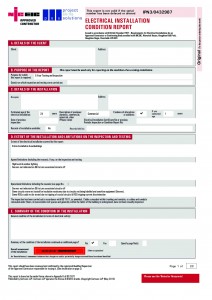 EICR Testing
As a guideline, the recommended EICR Testing, electrical test & inspection frequencies for an electrical safety certificate are:
5-year electrical test: are required for commercial properties such as shops, offices, hospitals
3-year electrical test: industrial premises
1-year electrical test: places subject to an entertainment license, public swimming pools, caravan parks
Private Rented Sector Scheme: legislative requirements from 1st June 2020 for Landlords
10-year or change of occupancy: domestic test
Electrical Testing Essex – London
Landlords electrical safety certificates are now a legal requirement for their properties and we can carry out the required testing to provide the EICR certificates. The cost of the EICR is based on the size of the property normally based around the number of bedrooms to make things easy to give you an instant price.
If you are buying a property it makes sense to have the electrical wiring & distribution tested and inspected. Electrical problems can be dangerous and expensive and once you have purchased the property your responsibility.
PSS Installations provides a range of social housing electrical services such as electrical inspection and electrical safety certificates for mutual exchanges. (see case studies) This testing can be incorporated into planned and reactive electrical maintenance contracts, electrical installations or electrical repairs for clients wishing to outsource their electrical works.
Landlords Safety Certificate
The Government has introduced legislative requirements from 1st June 2020 for Landlords in the Private Rented Sector in England. It has proposed detailed regulations for enforcing mandatory five-year electrical safety checks in the private rented sector from July this year.
As of the 1st July 2020 all-new specified tenancies will require an electrical safety check to be in place.
As of the 1st April 2021, all existing specified tenancies will require an electrical safety check to be in place.
We can help with all aspects of electrical testing for landlords and understand these need to be done quickly to get your property ready for the next tenant.
Smoke & Fire Detection
All landlords are required by law to have fire-detection equipment in each property and there should be at least:
One working smoke alarm in the room is frequently used by tenants for daytime living purposes.
A functioning smoke alarm in every circulation space, such as hallways and landings.
Heat detection in kitchen and CO detection within 1-3m of a fuel-burning appliance (fires, boiler, etc)
As part of the Landlord safety checks, we can test and check that the required detectors are in date and operational. Our engineers will replace and install Smoke, Heat, and Carbon Monoxide detectors to meet your legal responsibilities (D1/LD2 as the required standard, regulation number – BS5839-6:2019) required to keep your tenants safe. Project Skills Solutions are Aico expert installers find our more.
Emergency lighting testing and maintenance services
If your building has emergency lighting it is essential to have it checked and maintained to ensure it will work in an emergency. We can offer you monthly or annual testing and maintenance services to meet your requirements.
PAT testing
Pat testing (Portable appliance testing) is the process of checking electrical appliances for safety through a series of visual inspections and tests. Our engineers will attend your premises and carry out a visual inspection of the appliance, its plug and lead.
For Class 1 & 2 equipment they also inject test voltages into the cable and appliance. This checks their integrity. All appliances will be labeled as tested, and a full set of test results for each one will be provided.
We'll provide a full list of any failed items with an explanation of why they failed.