Are you looking for an EV Charging Solutions at home or at your workplace?
If so, we can help, PSS Installations offer a wide range of EV Charging Solutions. Choose from different charging speeds, multiple charge points, wall-mounted or pole-mounted. Furthermore, save up to £350 per point through the OLEV grant.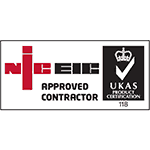 Our engineers are trained and experienced installing the latest charging equipment. Our team are available for support and advice throughout the simple process. Helping you apply for funding choose the correct solution for your property and needs and more.
With charge points from £1,500+vat and no hidden costs. We can advise and survey your property remotely with a few pictures sent from your phone.
EV Charging Solutions at Work
The future is upon us with businesses now planning and preparing their charging requirements for the transition to using electric vehicles. For some companies, this may be for individual staff vehicles that require single charging points, but for others, they may have a fleet and require a more in-depth plan. So, what the advantages of Electric Vehicles.
Whatever the specific charging needs, we can help to improve the sustainability rating and deliver a solution that will improve employee satisfaction.
There are two types of Electric Vehicle Charging in working environments: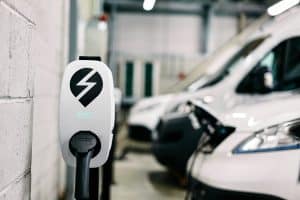 Your staff can drive in, plugin. Simple.
You can, if you want, charge your staff to use the chargers. Also, you can only charge your KWH rate (you can't make a profit, for 3 years)
Its also possible that you can not only charge, but you can set different rates for different staff members. For example, Managing Director gets free charging while the Administrator pays a contribution such as £0.13kwh
Either way, having Electric Vehicle chargers at your workplace is a great incentive for retaining existing staff and bringing on new staff. Also, it's a great way to encourage going green as a business and as individuals.
Vehicle Fleet Electric Vehicle Charging
Your drivers arrive at your head office or remote site and plugin. Still simple. They could be loading, unloading, resting or meeting. Whatever the reason, their vehicle is charging up AND it should be cheaper than fuelling up at a fuel garage.
With Electric Vehicles, maintenance costs will be lower, service cost will be lower and fuel consumption will be lower (Electric is the fuel in this example). Making your business more cost-efficient, which leads to higher profits!
---

 EV Fact – Happy employees. Ensuring your employees feel valued by the organisation increases staff productivity and engagement. Providing essential electric charging for employees demonstrates an organisation's responsibilities and commitment.
---
Home EV Charging Solutions
If you have purchased an Electric Vehicle, then ideally you need a charger installed at your property. Most EVs come with a 13A plug-in charger which will charge the vehicle up perfectly fine, however depending on what vehicle you have, and the batteries installed, this can take a long time to charge up. Also having a lead plugged in from inside your house or garage is unsightly and consumes more effort and time. Here is some info about electric vehicle charger installation.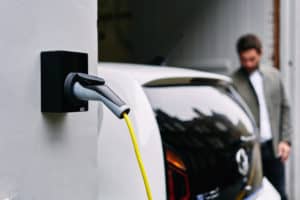 PSS Installations can install a 7kw charger at your property so that when you pull up you can simply plugin and not have to run any leads or make anything more complicated than it needs to be. With home chargers, they are still smart so you can see what your energy usage is using the phone apps and will still lock in the plug so that it can't be used.
If on the other hand you are building homes or you don't yet have an electric vehicle, we can install all the cabling required and fit a dummy wall box so that when the time comes all you need to do is purchase a charger that will slide on to the mounting bracket we have already fixed to the wall. Be aware, you won't get an OLEV grant with this as everything needs to be installed in one sitting – but it will still be cheaper as the dummy modules are cheaper. This is only available with EO chargers.
Smart (apps)
Lockable
Future proof (EO)
OLEV approved
Time and Effort saving
£350 grant per point
---
Destination EV Charging Solutions
If you are a business owner and would like to attract customers to your business, then why not install some EV Chargers in your car parks? This would be suitable for businesses where customers spend some time parked up such as Garden Centres, Tea Rooms, Shopping Centres, Retail Parks and Cinemas etc. EV chargers installed here are a great unique selling point and an excellent way to bring new customers to your business – and keep them there.
EV Drivers and owners will plan out journeys more than combustion engine drivers using apps like Carwow and Zapmap – you can register your business with these companies so that when drivers are planning their routes they can plan to come to you, charge and shop. Win-win.
---
EV Fact – Customers stay for longer: retail businesses benefit from EV charging stations. They motivate customers to visit and browse for longer with straightforward parking facilities that can simultaneously provide charging benefits. Longer browsing = higher value shopping basket.
---
We are approved and trained installers for EO Charging, Pod Point and Zappi. We have carefully selected our EV manufacturers to ensure they are the best in the industry. Our EV Charging manufacturers are accredited by the Office for Low Emission Vehicles (OLEV), meaning they qualify for both the Home Charge Grant and Workplace Charging Grant.
Both EO, PodPoint and Zappi use innovative 'Smart' technology to help keep electric car charging costs down. Smart Charging reduces high peaks of electricity demands to minimise the cost of electric charging stations and other appliances on-site. This ensures the efficient charging of your electric car based on the available power capacity, saving costs and encouraging off-peak charging. 

---
EV Fact – Smart Charging avoids unnecessary costs such as overcapacity fees, whilst ensuring you'll get the most out of your charging stations at all times regardless of limited power capacity.
---
Are You Eligible For The OLEV Grant?
The Government OLEV grant is available to eligible installations for Home and Workplace EV Charger installations. The scheme can reduce your installation by up to £350 per EV charger outlet, limited to 75% of purchases and installation costs, and up to a maximum of 40 across all sites for each applicant. Some conditions affect eligibility, find out more on our blog OLEV Grant Information. 
Our team can guide you through this process with clear advice and o­­­nce you have your voucher, we ­­will process the grant application. PSS Installations is an OLEV authorised installer so will be with you every step of the way.
Pre April 1st 2020 the grant value was £500 across 20 sites. 
---
EV Fact – The OLEV grant was set up to help support the wider adoption of electric and hybrid vehicles in the UK. The scheme offers a range of grant and assistance to help individuals switch to electric vehicles.
---
Benefits Of EV Charging
There a many benefits of EV vehicles, and in turn EV charger installations.