If you require fibre cabling to be installed, you should select a fibre cabling specialist contractor. Unlike copper cabling, the correct installation of fibre cabling requires training, experience, and specialist splicing and test equipment. PSS Installations tick all the boxes involved in fibre cabling installation since 2004 across all sectors. This experience and having fully trained fibre engineers and the latest fibre equipment means we can supply this expertise.
Fibre Optic Installers
With plenty of experience handling fibre optic and network cabling, PSS Installations are here for all your network cabling needs. We have worked on fibre optic cabling projects in many environments and situations and are prepared to assist with any project you may need a hand with. We have a complete support team in the office, including staff with engineering and fibre optic installation backgrounds. Fully equipped and trained crews experienced in all aspects of getting fibre optic connectivity.
We have worked across various sectors, including FTTP Broadband, PON, PIA, MOD DII, Petrochemical onshore and offshore, Education, Commercial and Finance.
Our fibre cabling projects range from UK-wide cabling installation to cross-site backbone links, spines, subduct and internal fibre networks. This includes Fibre Optic Cable Installation, Fibre Optic repairs, Fibre Cable test and fault location.
Fibre Optic Cable installation
Our team will conduct a full-fibre cabling survey to collect all the required information to install the fit-for-purpose fibre cabling solution. This may include new cable duct work, overhead cabling, cable containment, network cabling racks and patch panels.
Once a cable route has been agreed upon and planned then a cable type and mode will need to be specified. The next factor to consider is the environment in which the fiber cable is being installed. If it is external then consideration should be given to the cable construction generally steel taped or corrugated steel cables are best for protection.
The distance of the fibre cable required to carry the signal is the next consideration as to whether a multimode or single-mode fibre cable is required. Fibre transmission distances vary between both modes typically multimode cable's max distance is between 300m – 550m  where as single mode supports short and long distances. The cables differ in price and single mode can be cheaper and provide better transmission characteristics. The drawback is that the single-mode electronics required to transmit the light tend to cost more requiring stronger light sources such as lasers.
All the above fibre survey requirements collected are considered in our design and quotation that is provided free of charge.
Alternatively, you may provide a network design or schedule of rates that we can price and quote.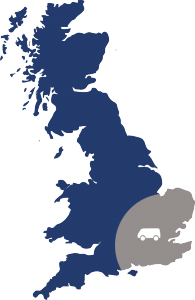 Fibre Optic Cable Installers
to the East of England, Southeast of England, Essex and London or Nationwide for large projects. If you are wondering if we cover works in your area, give us a call on 0800 0213 264
Fibre Installers
When coming to PSS Installations with a potential project, you can expect the below from us.
18 Years of  Fibre cabling project experience,
Fully equipped Professional engineers
An ISO 9001 credited business
SafeContractor Accredited
Wide range of services, all with a 12-month guarantee
Free survey of your project
Helpful office-based support team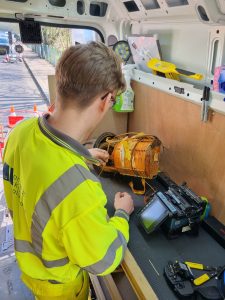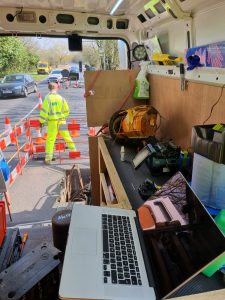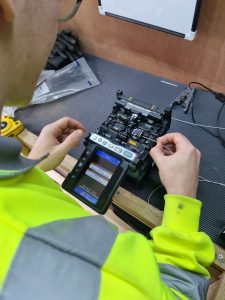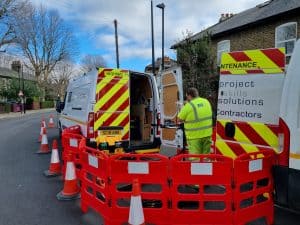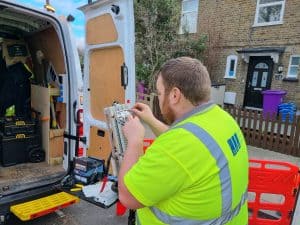 Contact Us
If you are interested in working with PSS Installations and not sure how to organise this, give us a call on 0800 0213 264. Alternatively, you can use the webchat or fill out the contact form at the bottom of the page. Our team are happy to help and looks forward to your call.