As part of our ongoing work with everything5pounds.com, we are regularly asked to make changes and alterations to their electrical systems.
Everything5pounds.com is a fresh and dynamic online company offering high street fashion at one price. One of the global leaders in staged budget clothing, everything5pounds.com constantly pushes boundaries to bring trend-led clothing for just £5.
Electrical Distribution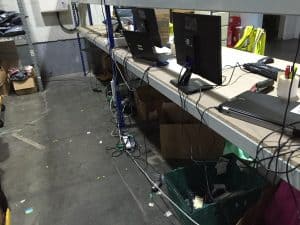 In this case, our client had installed some new benches in their warehouse and as a temporary measure had run some extension leads to power their equipment. This was unsafe and was a potential fire risk and presented trip hazards. The client requested that we provide an improved electrical distribution solution to this work station within the main warehouse. Following a site survey and discussion with the client, we installed a new dedicated 16mm 5 core which terminated onto a new 6 way 3 phase TPN board, this was terminated onto a new 63A mccb into an existing panel board.
Behind the desks we installed new 50mm galvanised trunking with new 25mm kopex links between the desks this provided 2 radial circuits with 8 sockets on each all protected by a 32a RCBO. On completion, the client's extension leads were removed and the leads all plugged in and cable managed, removing the fire and trip hazards along with an unsightly mess of cabling across the area.
A NICEIC certificate was issued on completion.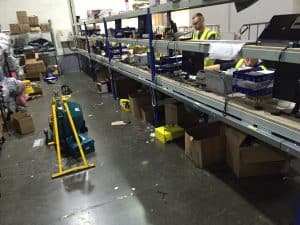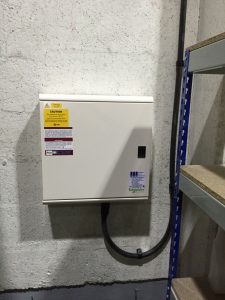 Electrical Moves and Changes
Operational areas within businesses are constantly changing this can present this type of challenge: impeding efficiency and growth along with increased risk to health and safety.
As a long established commercial electrical company, we have a wealth of electrical installation experience in solutions to support you in meeting your electrical requirements.
Services Carried Out
Electrical Installation
Electrical Distribution
Electrical Testing
Electrical Certification