The PSS Installations team are able to install data cabling in education premises ranging from schools to universities. Over the years we have worked for a range of schools, university's and colleges designing, installing and maintaining IT data networks. Our data cabling engineers have a wealth of cabling experience allowing education IT managers to procure our services with confidence.
Scheduling a data cabling in education project
All of our engineers are CRB checked. As we know that installing data cabling in education premises can require a flexible approach. So, we are able to offer works to be carried out of normal hours (evenings, nights and weekends) or during holidays.
This approach reduces the possible disruption to your staff and pupils but gets the data cabling required installed, modified or repaired.
Here is a list of our structured cabling services that are available:-
We can schedule works in advance out of term time.
Happy to work out of hours nights and weekends
We can offer fault location and network cable repair services
Emergency call out services are available to our clients
When you require minor works such as Moves and changes we can help
Old or slow networks may require your Data cabling to be upgraded
If you need to know your network performance we can perform Network Audits and Health checks
New Data Cabling infrastructure installation in all categories like Cat5e/  Cat6 / Cat6A
We can provide a wide range of services within Data Cabling such as installation, testing, structured termination, telecommunication cabling and data cabinet solutions enabling us to meet all of your needs. We also offer a wide range of services such as CCTV, Air Conditioning, Fire Alarms, Electrical Services, Fibre Optic and we can even offer a wide range of training courses, having such a diverse range of services we are able to provide a complete solution to many schools across the UK.
Our data cabling services are carried out with full health and safety documentation for Method statements and risk assessments. We are externally accredited by safe contractor and with an in-house H&S manager ensures we always work safely.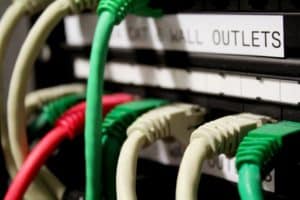 Network Cabling
The data cabling required for the local area network (LAN) on which computers communicate is vital to all education premises. As a vast amount of studying is carried out by students using computers. So a data cabling network needs to be installed by professionals so it is efficient and reliable. Furthermore the cabling needs to be fully labelled and documented to aid future works such as moves and changes and repairs. Poorly installed data networks can cause major issues and far outweigh the possible initial cost saving when installed. Our data cabling expertise will ensure that you have a future proof network that is fully tested and documented.
We can advise you on the best network solution for your project, based on your network requirements and budget. They will advise you on the best cable category for your required performance and will survey your premises for free to allow an accurate network design. The design will include all cable management, patching racks, cabinets, fibre optic installation and electrical cabling requirements. To ensure the installation is protected from damage and neatness cable trunking is installed to keep cables hidden.