Firstly, an electrical contractor is a company that can carry out the design, installation and maintenance of electrical systems. They vary in size, experience and capability. Choosing the correct one is vital to the success of your project.
So here's what to consider in your selection.
Electrical Contractor Size
Large companies will have their procurement departments carry out an in-depth analysis as part of the supply chain enrolment. However, for many companies, this may not exist and it is left to the appropriate member of staff i.e. building manager or a director.
So, how do you evaluate the size of the electrical contractor you require? Firstly consider the size of the works to be undertaken and the estimated value of the project. Once you have an expected value you can search for suitable companies check their case studies to see if they have completed similar size projects. Secondly, you can check the electrical contractor's credit rating on a site like Creditsafe or ask for their latest accounts.
It's vital that the electrical contractor is financially capable of delivering the size of the contract along with the required resources. You should ask if they intend to subcontract out any of the works as you often find they will not be doing all or any of the works internally. They should have sufficient electrical staff for the works to be undertaken. If they provide additional specialist services supplementary to the electrical works this is generally acceptable.
Approved Electrical Contractor – NICEIC Certified
You should make this the next consideration when selecting the electrical contractor. All NICEIC approved electrical contractors undergo an in-depth assessment process. This includes site inspection of their work carried out, review of their premises, documentation, equipment and supervisory staff competence. Only those who meet the NICEIC's high standards will be approved and added to the NICEIC Register. This shows that the company takes its work and ongoing approval seriously as its time-intensive and costly.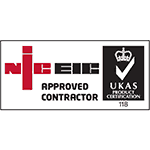 You should be aware the NICEIC approval scheme is for Commercial or Domestic.
Quality Workmanship and Service
This ties very much into the last section as part of your selection process knowing they are externally audited for workmanship. The point to consider is that with electrical works much is unseen. It's possible to see poor workmanship on the visible parts of the electrical works. However, is the design and materials used in compliance with the 18th Edition IET Wiring Regulations (BS 7671:2018). This part of the electrical works is mostly unseen and unless you are a qualified electrician you will not be able to check. This can have an impact on the quoted cost and can be the reason for differences between quotations.
So you should be beware not all quotations are equal due to the quality of materials specified. Furthermore, their staff employed on the project will be fully qualified, uniformed,  equipped with materials and PPE.
Electrical Contractor Insurance
Finally what insurance should you expect an electrical contractor to hold?
All are required to have Public and Employers Liability insurance normally £5m & £10m cover to protect their staff and the public.
Professional Liability insurance which is vital for all businesses that give advice or offer professional services to other businesses. It covers you in the event that you give out faulty advice that causes financial loss to a client.
Contractors all risk insurance (CAR) is designed to provide the electrical contractor with the protection for the tooling, materials, plant and equipment left and used on the site. If they do not have this and theft or fire was to occur this could impact on the works. They may even expect their loss to be claimed against the client's insurance.
Electrical Project Support Services
So we hopefully have provided you with some valuable guidance on things to check but it doesn't finish with the above.
The staff working onsite require good support and management from the office. This is vital to make sure that they are supplied with materials and equipment to keep the works flowing. The alternative is that staff will spend much of their time collecting materials and equipment which can quickly impact on your completion. Furthermore, should they require health and safety guidance and changes to RAMS then they are fully supported to keep them working safely.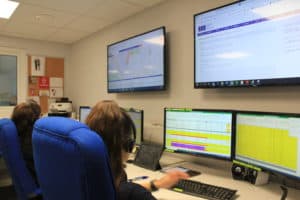 The services that you should be able to procure from an electrical contractor are:-
Electrical Design
Project Management
Additional Support Services
If you have an electrical project then consider the above. Then contact Project Skills Solutions as we can fulfil all of the outlined requirements and have been delivering these services for 15 years.