If you've been asked to get an 'Electrical Safety Certificate', 'Fixed Wire Testing', ' 5-year periodic electrical test and inspection', 'landlord safety test', or a 'homebuyers test' you're probably looking for an EICR. 
The Electrical Installation Condition Report (EICR) helps you to ensure the electrical systems in your building are safe and properly maintained.
Why get an EICR?
EICR's are used to report on the state of electrical systems and installations in your building. You can use that report to prove that your systems are safe and maintained, or you can use it to identify areas that need improving to meet your legal duties.
From small domestic properties being let out, to large offices and factories an EICR is a great way to keep your building safe.
If you rent out a property and someone is electrocuted you could be prosecuted.
It's a legal requirement to ensure electrical equipment and installations are maintained.
A lot of insurers will ask for an EICR before they cover you.
How much does an electrical fixed wire test cost?
The electrical testing is charged on a price per circuit basis plus a minimum charge so it is easy and quick for us to quote if you can provide the required information in most cases while you are on the phone.
How many electrical circuits do I have?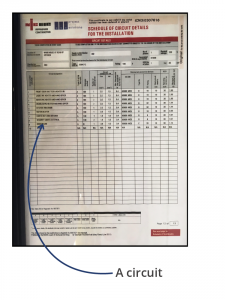 So how do you work out how many circuits you have? The easiest way and probably the most accurate is to send us a copy of the existing electrical safety certificate (see the image of electrical safety certificate). This shows down the left-hand side column the circuit number and if you see how many lines there are and that line number is the number of circuits to be tested on a single-phase board. A three-phase board will have a letter and two numbers (ie 2L2). This will also tell us if this is a three-phase board and how many extra circuits there are.
Counting electrical circuits on your electrical distribution (fuse) board
If you can't find the electrical safety certificate or the building has never been tested then you can provide the number of circuits be counting the number of breakers (trip switches) in the distribution board (see two images of different types of distribution boards) the arrows point to a breaker (or you may have a fuse cartridge if an old system).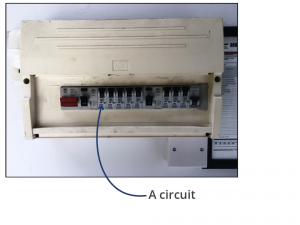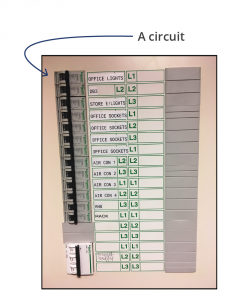 Be aware that your building may have more than one distribution board if it is, for example, a commercial property so look to ensure that you find all of them for us to quote accurately.
If you miss a board then it's not a problem as we can amend the price for the additional circuits in the same way as we quoted you initially but its best for you to budget if you give us an accurate count at the beginning.
What happens during the EICR?
We will check the electrical installation to ensure that the requirements of BS7671-2018 (18th Edition) are met, which is the national safety standard for electrical installations.
The EICR will take into account all relevant testing including the following factors:
Adequacy of earthing and bonding
Suitability of the switchgear and control gear e.g. consumer unit/s, main isolators circuit breakers etc
Fixed accessories e.g. switches, socket-outlets and light fittings
Type of wiring system and its condition
Provision of RCD protection for required items eg. Sockets and lighting (regulations applying)
Presence of adequacy of identification notices around the building in the appropriate places
Report on any 'wear and tear' items/cables
Once the testing is complete then an electrical safety certificate will be issued which will show any failures if found during the testing. We will quote without obligation any required remedial works and time scales for the works to be completed.
Note:
C1 – Immediate remedial attention required (this could be a live wire exposed etc)
C2 – Urgent remedial attention required (This could be a damaged accessory that could cause an injury/fire)
C3 – Improvement recommended (this could be not conforming to the latest regulations)
FI – Further investigation required without delay ( This could be an untraced circuit, therefore not tested)
All C1, C2 & FI will cause a failure in the installation and therefore will be 'Unsatisfactory'. We will quote to remedy these in the days following the report.
Fixed Wire Testing FAQ's
How long will the works take?
Once quoted we can advise the expected duration based on the number of circuits.
As a guide:
A landlords electrical test or domestic house with one board will normally take 2 to 4 hours.
A commercial property, depending on the number of distribution boards, circuits and work environment (offices, machinery etc) will normally be completed in a day or two. If there are more circuits than usual than we aim around 20 – 25 circuits per day to be tested.
What disruption to our electrical supplies can we expect?
There are different ways of testing a circuit. In general, and ideally, we would disconnect the circuits from the board and test the cabling individually with all accessories removed and inspected. In doing this all machinery/PCs etc would need to be switched off and unplugged from their designated outlets. If you have sensitive equipment such as servers or CCTV then we would ask if you can shut these down to be unplugged, if however, this is not feasible then we would put this as a limitation on the report and conduct a visual check to all accessible parts to that circuit. This is not ideal, however, we do understand that there are always critical items that can not be switched off.
If, for example in an office, we would require to switch off lighting circuits to test these then we would work around you to minimise disruption as much as possible.
So, in general, all circuits need to be switched off to complete the full test. Our aim will always to work with minimal disruption so any potential issues will be discussed and planned before commencement. Critical areas can be planned and quoted for out of hours working if the client requires.
How often do I need an electrical fixed wire test?
5 year electrical test commercial properties such as shops, offices, hospitals,
3 year electrical test Industrial premises
1 year electrical test Places subject to an entertainment license, Public Swimming pools, caravan parks
Landlord electrical test from 1st July 2020 all-new tenancies and 1st April 2021 all existing tenancies.
Domestic change of occupancy / 10 years.