Our aim to start the transition to a more environmentally sustainable company vehicle fleet commenced in 2020. However, this was delayed due to the pandemic in 2020 but has now recommenced. Our initial plan is to use EV vehicles as our company cars come up for renewal or new cars are required. Finally, the biggest change will be to replace our fleet of diesel vans with Electric Vehicles. The first step in the transition is the EV Charger installation.
Our installation department we able to carry out these works as an OZEV and NICEIC approved electrical contractor.
EV Charger Installation
Firstly, in order to support this transition we needed to consider our workplace EV charging capability. This was straight forward as we are approved installers for various EV charger manufacturers and OZEV approved. So, our engineers planned the EV charger installation to take place with some of the internal building changes. The electrical installation of a new electrical supply across the building was carried out by our electricians. This then provided the supply which was installed externally to the EV charge points.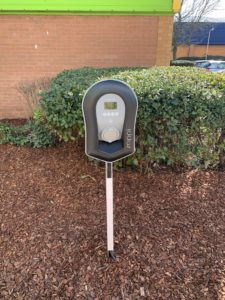 Zappi EV Chargers
We decided on the Zappi manufactured EV Charger for its ease of EV charger installation and functionality. Furthermore, the capability of it being supplied by green energy from solar or wind-generated electricity fits our phase 2 plan. Initially, the supply for 4 EV charging points has been installed with only one electric vehicle charger installed.
Once the Myenergi Zappi EV charger had been installed our electricians tested its safety and functionality before it was put into use.
Using the Zappi Electric Vehicle charger
Simplicity is the best description for using this electric vehicle charger. You can download the app or just enter a pin it's your choice. The app allows you to see remotely the rate of charge and how long until your electric car will take to fully charge. The EV charger and app have a visual display that shows graphically where the charge is coming from and the charge rate. Very simple to set up for use and programming no unauthorised use of your EV charger installation.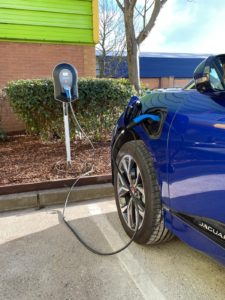 OZEV Grant Application for EV Charger Installation
The Workplace Charging Scheme (WCS) is a voucher-based scheme that provides support towards the up-front costs of the purchase and installation of electric vehicle charge-points, for eligible businesses, charities and public sector organisations. As OZEV approved installers we were able to process this in accordance with the OLEV workplace charging scheme.
Applicants can only redeem their WCS voucher with authorised installers as they claim the grant on behalf of the applicant so we strongly advise applicants to check that their chosen installer is authorised by OZEV under this scheme. A list of approved installers can be found on the OZEV website.
Note. To align with the government's net zero ambitions, the Office for Low Emission Vehicles (OLEV) has been renamed the Office for Zero Emission Vehicles (OZEV).