The Government has introduced legislative requirements from 1st June 2020 for Landlords in the Private Rented Sector in England. This will require Landlords to have electrical safety checks carried out as follows:
From 1st July 2020 all new specified tenancies will require an electrical safety check to be in place.
From 1st April 2021 all existing specified tenancies will require an electrical safety check to be in place.
Electrical Testing
The majority of landlords are proactive when it comes to ensuring the safety of their tenants and make a welcome contribution to the housing market. But a minority fail to do so, putting their tenants in danger as a result.
If you still have untested rental properties then time is running out with the deadline fast approaching to have all properties electrically tested. So you shouldn't delay as its very easy to book and have the required electrical test carried out. We even have a list of prices for typical property types for guidance on the cost. Click Here for electrical testing prices. 
Furthermore, if you are unsure of the information required for us to give you an instant quote its simple a photo of the electrical boards or cert will do. We can give you a quote and the works will generally take a few hours for a standard domestic property. If you would like to know what is carried out during the electrical testing click here.
Also, a really important additional check that we can carry out is on the building's smoke & heat detectors that we can install or replace more info here.
EICR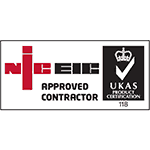 What is an EICR and why is it important we have a post covering this click here. We are approved to carry out these EICR (Electrical Condition Reports) and in actual fact complete 100's every month. So you can book your electrical test with us with confidence in price and competence fo a single or portfolio of properties. Furthermore, we will also provide ongoing electrical maintenance and repairs to your properties 24/7.
Electrical Testing Essex
We are based in Essex so ideally located for all landlords who require electrical testing on their tenanted Essex properties. However, we also carry out electrical testing in London, Suffolk, Kent, Norfolk and home counties. If your property fails any part of the test we will give you a price often while the electrical engineer is still on the property to rectify and complete the EICR.
Electrical Testing Faults
So what are things that can fail the electrical safety check most commonly are earthing failures? This is also one of the most dangerous electrical faults as its there to save people being electrocuted. Earth bonding can become disconnected for a variety of reason particularly if you have had plumbing or building works carried out.
If our electrical engineers find faults you will be notified and they will be quoted for repair.
Need a Price?
If you require a price for electrical testing your property we will need to know the number of electrical circuits. This can be found by the number of MCBS (Fuses) in the distribution boards or listed on the current EICR.
We will help you with this if you cannot provide this information by you sending a photo of the distributions boards. If you have a large commercial property then we can carry out a survey and provide a quotation.
You can use the contact us or call on 0800 0213 264.
.