There are many different manufacturers of Air Conditioning equipment readily available in today's workplace. We are installers of Mitsubishi Air Conditioning systems. With air conditioning being considered a luxury item, there is a tendency to just accept the cheapest quote offered. There are many reasons to consider the quotes you receive more carefully.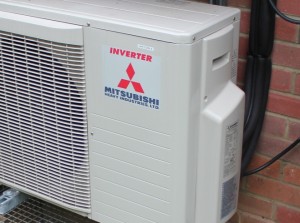 Mitsubishi Electric
PSS are expert installers of Mitsubishi Heavy industries A/C equipment. We also install Mitsubishi Electric equipment where required and Daikin equipment as well. Many people do not know that the two Mitsubishi Companies are totally separate entities.
Mitsubishi Heavy
The Mitsubishi Heavy product range includes a range of solutions:
Split Systems
VRF Systems
Heat Pumps
Chillers
Controllers and Accessories
Single Split – this is a system that operates 1 unit indoors from 1 outdoor unit. This type of equipment is in use almost everywhere these days you'd be most likely to see this in a domestic setting. The range of indoor units is varied for all types of applications from ceiling mounted units and concealed ducted units to wall and floor mounted units.
Multi splits – this is a system where usually up to 4 indoor units can be run from a single outdoor unit. So, they're utilised when multiple indoor units are required in a larger area or room to install the outdoor units is restricted. These systems will not allow simultaneous cooling and heating. Because of this, all units have to be either cooling/turned off or heating/turned off.
VRF systems – these are often much larger systems which can accommodate up to 64 indoor units. They come in two formats, heat pump or heat recovery. Basically, the heat pump works much the same as the multi-system above but on a larger scale. Heat recovery can provide any unit connected to be run in any mode regardless of what other units are set to.
Are you getting the best value?
When considering any quotes, take into account the type of system and the cooling-heating capacity it can produce. When a room size falls in between two capacity sizes you may receive a quote for the smaller size from one company and the larger size from someone else. The smaller size will appear the cheaper quote at first glance but on those really hot/cold days which you purchased the air con for it just may not perform satisfactorily and save you less overall.
Air Conditioning Installation
PSS Installations can use Mitsubishi's complete range of products in our installations, contact us for more information or to organise a free survey and quote.