If you're looking for professional and reliable commercial electrical services then make sure you use an NICEIC approved electrical contractor. So are PSS Installations approved? Yes, we are proud to have been an NICEIC Approved Electrical contractor since 2009. We believe this leading external verification shows our clients that they can expect the highest quality electrical services when working with us.
Why Use an NICEIC-registered Contractor
For over 50 years the NICEIC UK's leading voluntary regulatory body has been assessing the competence of electricians and electrical contractors. Furthermore the NICEIC regularly (annually) check and monitor approved contractors and their work.
Approved electrical contractors undergo a rigorous assessment process. This covers a representative sample of their work, their premises, documentation, equipment, and the competence of their key supervisory staff. Once approved they are then re-assessed on a regular basis to ensure continued compliance.
Once registered with the NICEIC, electrical contractors can access a range of support services, including technical advice, industry recognised training, industry literature and contractor insurance.
Stay safe and use an NICEIC electrical contractor we offer a full range of electrical services.
Electrical Safety
Regular assessments are carried out by the NICEIC to ensure the quality service and safe practice of the approved contractors. When you decide to use an NICEIC approved contractor you have the assurance that their work is monitored. In the unlikely event, you had a problem with their work you can complain directly to the NICEIC for assistance.
Accreditation's
PSS Installations has a range of awards and accreditation's giving you peace of mind when choosing a contractor, our accreditation's include:
NICEIC approved electrical contractor
Safecontractor
ISO 9001:2015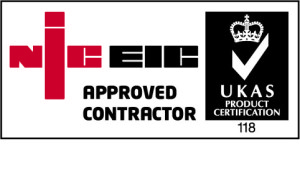 NICEIC Approved Electrical Services for Essex & London
When you have an electrical works project there is often a requirement for a range of associated services. This can involve a procurement headache getting quotes and coordinating works once contractors are selected and works commence. Our range of services takes care of all this hassle allowing you to procure from a single company.