If you're looking for professional and reliable commercial electrical services then make sure you use an NICEIC-approved electrical contractor. So are PSS Installations approved? Yes, we are proud to have been an NICEIC Approved Electrical contractor since 2009. We believe this leading external verification shows our clients that they can expect the highest quality electrical services when working with us.
Why Use an NICEIC-registered Contractor
For over 50 years the NICEIC UK's leading voluntary regulatory body has been assessing the competence of electricians and electrical contractors. Furthermore, the NICEIC check and monitor approved contractors and their work annually to prove their work is electrically compliant.
NICEIC-approved electrical contractors undergo a rigorous assessment process. This covers a representative sample of their work, their premises, documentation, equipment, and the competence of their key supervisory staff. Once approved they are then re-assessed on an annual basis to ensure continued compliance.
Once registered with the NICEIC, electrical contractors can access a range of support services, including technical advice, industry-recognised training, industry literature, and contractor insurance.
So what benefit does NICEIC approval have to the electrical contractor it obviously costs and involves the company being scrutinized. Well, we believe that the NICEIC-approved contractor status shows our clients we are committed to the quality of service. Furthermore, having our work, processes, and staff inspected by the NICEIC proves our ability to carry out electrical work in compliance with the current regulations. So in the end we maintain our NICEIC-approved status to give prospective clients confidence in placing their electrical projects with us. To reinforce this further take look at our case studies to see the depth and range of our completed and ongoing electrical works.
Stay safe and use an NICEIC electrical contractor we offer a full range of electrical services.
Electrical Safety
Electricity is dangerous to the untrained and it surrounds all of us every day in our homes and workplaces. Our workforce is fully qualified and continually trained to the lasted edition of the electrical regulations (18th Edition currently). Furthermore, we are continually running electrical apprenticeships to bring in new recruits to the electrical industry. These apprentices will eventually become fully qualified electricians and provide us and the industry with these vital electrical skills.
Carrying out electrical works is half the story knowing how to do it safely and in compliance with the regulations can only be done by those trained and qualified. When you decide to use an NICEIC-approved contractor ask to see their staff's electrical qualifications from the electricians to the management that supervises them.
Accreditation's
PSS Installations has a range of awards and accreditation giving you peace of mind when choosing a contractor, our accreditations include:
NICEIC approved electrical contractor
Safecontractor
ISO 9001:2015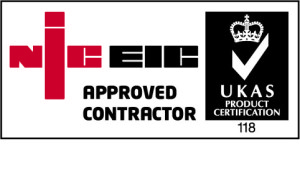 NICEIC Approved Electrical Services for Essex & London
When you have an electrical works project there is often a requirement for a range of associated services. This can involve a procurement headache getting quotes and coordinating works once contractors are selected and works commence. Our range of services takes care of all this hassle allowing you to procure from a single company.