We can provide fixed wire electrical testing, inspection and certification services in the Home Counties including London. Our electricians can carry out the electrical testing and certification for all property types keeping your building electrically compliant. Furthermore, landlords, building and housing managers requiring an electrical certificate can rely on us for a fast and competitive service.
Because Project Skills Solutions are an NICEIC approved electrical contractor externally inspected for compliance with the 18th Edition regulations. You can be sure of the testing and electrical certification being carried out correctly and your premises being electrically safe.
So, Electrical testing has various names, but they are all the same:
Electrical Fixed Wire testing
5 Year Periodic inspection
EICR report
So when you need an Electrical Test Certificate (EICR) below are some typical guide prices below. We can quote you accurately in several ways. Provide us with an old electrical certificate or give us a circuit count, and we can give you an instant quote. You may have a large building and be unsure of the electrical distribution, no problem, we will carry out a free survey.
Note: To carry out this fixed wire testing correctly, it takes time, so if you get a cheaper quote that seems too good to be true – it probably is.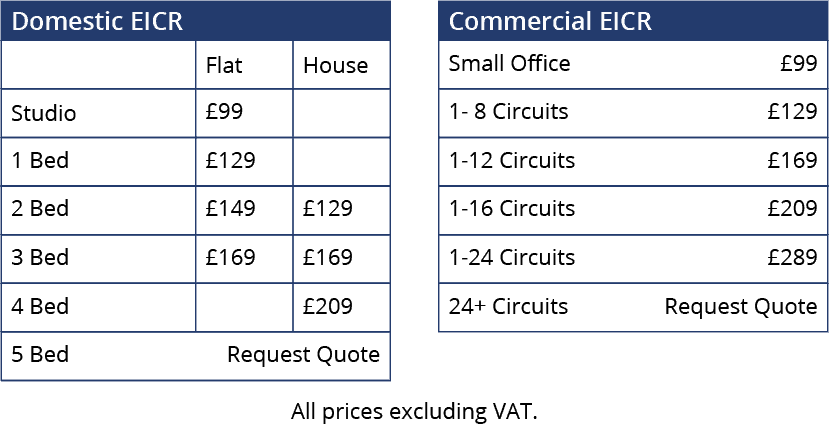 Here's some useful information on your EICR test, and what happens during the test take a look at our EICR questions blog.
Electrical Safety Certificate – Fixed Wire Testing Services
Every electrical installation deteriorates with use and age. It's your responsibility to ensure that your tenant(s), or anyone entering or using your property, are not put at risk. A periodic inspection checks the condition of an existing electrical installation against BS 7671; the UK Standard for the safety of electrical installations.
On completion, we will issue an electrical safety certificate (EICR). Your certificate is valid for 1 – 5 years (dependant on business type see below). It will indicate if the installation is in a satisfactory condition for continued service.
It will also identify any nonconformity's and faults found during the testing. We will advise the cost to repair while onsite where possible or provide a free remedial works quote.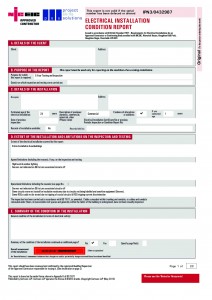 As a guideline the recommended electrical test & inspection frequencies for an electrical safety certificate are:-
5-year electrical test commercial properties such as shops, offices, hospitals.
3-year electrical test Industrial premises.
1-year electrical test Places subject to an entertainment license, Public Swimming pools, caravan parks.
Change of tenancy landlord electrical test.
10-year or change of occupancy domestic test.
5 Year Electrical Testing Services – Essex – London
We provide social housing electrical services such as electrical testing and electrical safety certificate for mutual exchanges. This testing can be incorporated into our electrical maintenance planned and reactive contracts, electrical installation and electrical repairs for clients wishing to outsource their electrical works.
Landlords have a legal duty to ensure that their rental property, and any electrical equipment provided, is safe before a tenancy begins and throughout its duration. Landlords requiring an electrical safety certificate at a change of occupancy can get an instant quote and fast attendance. Plus we can test and replace all smoke and carbon monoxide alarms in the rental property. If there are electrical works required due to faults, damage or upgrades to get your property ready for our next tenant our engineers can attend urgently.
Emergency lighting testing and maintenance services
Emergency Lighting Maintenance and testing can be provided on a schedule to suit your business, including monthly and yearly visits. Our engineers assess the locations of your emergency lighting to ensure they're in the best possible operational position. We also test all the essential components such as switches, batteries, luminaries and control equipment.
A test for the full rated duration of the emergency lights (e.g. 3 hours) must be carried out. The emergency lights must still be working at the end of this test. We record your results and, if failures are detected, we will provide a quote for any remedial works.
Call us with the number of lights and type, and we will quote to carry out these tests.
Portable Appliance Testing (PAT testing) services
Portable appliance testing is the process of checking electrical appliances for safety through a series of visual inspections and tests. Our engineers will attend your premises and carry out visual inspection of the appliance, its plug and lead.
For Class 1 & 2 equipment they will also inject test voltages into the cable and appliance to ensure their integrity. All appliances will be labelled as tested, and we will provide a full set of test results for each.
We'll provide a full list of any failed items with an explanation of their failure. We can also carry out microwave emission testing in conjunction with this service.