So with some caution businesses can start to plan the return of staff to their premises as the Covid lockdowns are slowly lifted. The government's roadmap for coming out of the pandemic now gives us hope that we can plan ahead. One thing that is certain is that the way we work has changed and may never return to the pre-pandemic days. So what's going to be required for office modifications to met a Covid safe and healthy long-term environment.
It is expected that distancing is going to be a factor for some time to come and needs to be considered when planning your staffs return to the office.
Covid safe Office  Modifications
So what do you have to consider when planning the reoccupation of the premises.
Make sure everyone is social distancing. Make it easy for everyone to do so by putting up signs or introducing a one-way system that your staff and visitors can follow.
Consider ventilation, air conditioning units must be maintained.
Arrange workspaces to keep staff apart. Consider using barriers to separate people and introduce back-to-back or side-by-side working.
Reduce face-to-face meetings. Encourage calls or video conferences to avoid in-person meetings with external contacts, or colleagues outside someone's immediate team, wherever possible.
Reduce crowding. Consider how many people can be in each space while remaining socially distant and consider using booking systems for desks or rooms. Reduce the maximum occupancy for lifts.
Some of these requirements may have been addressed during the various returns to the premise between lockdowns. Furthermore, some may eventually be no longer necessary but we need to plan with these in mind until the virus is eradicated.
What to consider
Firstly are you planning on bringing all staff back if they have been working remotely? Many businesses have had their staff working remotely so it's worth considering do you need to bring all staff back into the premises. Secondly, many offices may be designed so they cannot achieve covid safe requirements.
So once you have assessed and worked out staff numbers returning you need to consider what requires to be rearranged. Firstly desks that make people face each other either need screens or moving. Secondly, the open office has become a preference in past years but now maybe not the best solution.
Fit-Out Solutions
Project Skills Solutions have faced these considerations that you may be facing now. So here is how we have adapted our premises for our staff returning. Furthermore, carrying out improvements that would not be possible with fully occupied premises. So we have taken advantage of a bad situation with building works, electrical works and additional HVAC. Finally, the addition of EV charger points gives us the capability to charge our first 3 EV vehicles as we transition our fleet to all-electric vehicles.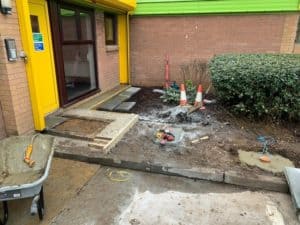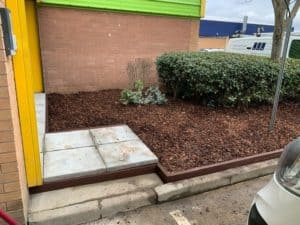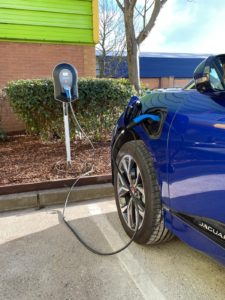 The building works has involved the construction of smaller offices reducing the larger open plan configuration. The desks have been moved so people don't face each other and spaced in accordance with the distancing recommendations. The office layout has also taken into consideration part-time occupancy as we plan remote workers to have the capability to work in the office as required.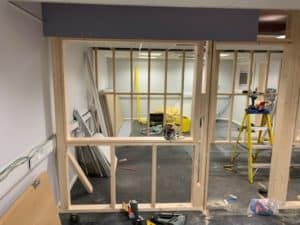 Office Modification involving Cabling
Good office cabling design will take into considerations future requirements that include moves and changes. Firstly, make sure that electrical and data cabling is installed in containment that is neat and allows access to cables. The preference is 3 compartment dado trunking which looks very neat and provides the required electrical & data cable segregation.
Our offices have 3 compartment dado installed throughout so moves and changes are carried out very easily. When desk positions change the electrical supply and data communication cabling needs to be moved to the new positions.
So if you are looking to carry out similar office cabling changes here's what you should consider.
Additional desks will require electrical cabling which can be achieved from existing ring mains.
Additional data cabling may require additional patch panels so check for spare ways. (non Patched)
These tasks are reasonably straight forward if you have surface trunking or underfloor containment runs. If not then it may be time to consider new containment installation. More so if you are likely to have moves and changes on a regular basis to meet your business requirements.
Changes to HVAC systems
Finally, it has been confirmed that ventilation plays a big part in preventing virus transmission. Therefore when sectioning up open planned offices the HVAC must be considered in the new design. The ventilation ducting can be modified if the unit has a capacity which should be the case as you are not increasing the size of the office space. If your premises are air-conditioned then you will most likely need additional units in the new section offices.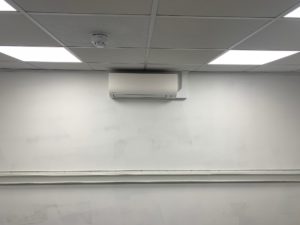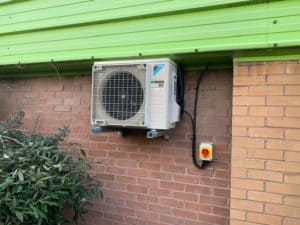 Now is the time to plan and adapt your premises for the return of staff. Our services and experience in office fit-outs and modifications can provide a one-stop solution take a look at the images of our project.