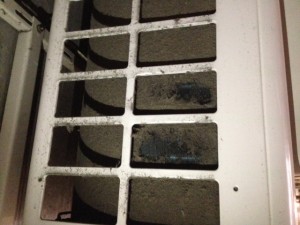 When did you last have your Air Conditioning system maintained? Our engineers were called to clean this coil… this system was completely clogged. Systems which haven't been maintained run poorly and will work inefficiently. Systems should be maintained every 6 months, with Project Skills Solutions you can schedule your maintenance visits in to suit your business hours and requirements. A regularly maintained air conditioning system will have a far longer life span than a non maintained unit.
Having an air conditioning system installed is an investment for your business and you obviously want to keep that investment in tip top shape. When we install the system we will quote to maintain the air conditioning system to the manufacturers guidelines, so you don't have to worry about sorting it out we can schedule the dates and just confirm they are still suitable closer the time.
If you have any questions about an air conditioning maintenance visit or requesting a quote for an air conditioning installation or maintenance visit contact us today.
Have an ICE day…
Kind Regards,
PSS Installs Team.