Today doing your bit for the environment comes with more benefits than ever. As businesses adapt to an emerging environmentally and financially conscious audience while accepting that their existing audience is more and more in tune to environmental concerns, they look for new ways to stay current.
Doing the right thing
Of course, businesses should do their part for the environment because of the benefits to our planet. However, the stark reality is we all need a little push to take the green route. Business leaders used to be tasked with making sure that the company makes money for its various stakeholders. In today's world though there's much more to think about. New expectations from customers, push from legislation, and financial incentives mean there are more reasons than ever to consider the environment in all business decisions.
Selecting a Renewable energy Supplier
Many business owners can now select a renewable electrical energy provider who will also help improve their carbon footprint. So, now most energy suppliers list where their energy is generated either from fossil fuels or renewables. Therefore it is possible to select a provider who only supply's 100% green energy generated from wind or solar farms. This approach benefits the company that is trying to reduce its carbon footprint.
What the customer wants
A 2018 report from Porter Novelli found 79% of customers prioritise 'protecting the environment as one of the most important attributes to the reputation of companies they engage with.
So, showing a willingness to practise business in an environmentally friendly way has never been more beneficial to your reputation, and therefore your business, but what's the best way to do this?
There are many accreditations your company could earn to manage and improve its environmental impact. Of course, there's a financial and human resource cost attached to gaining and maintaining those. You could take a more active stance in recycling. Working with waste companies is a great way to get started and can often be a significant first step to improving the company culture around environmental issues.
EV charging point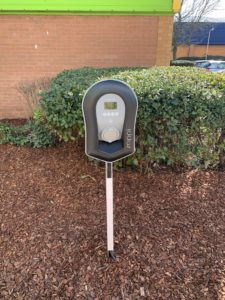 There's another great way to show off your environmental improvements, tell customers you're innovative and current, attract customers to your location, potentially offer staff some very attractive benefits and encourage them to take a more active role in environmental issues all at the same time.
Install an electric vehicle charging point at your business.
Showcase your commitment to the environment
Improve your reputation with customers
Demonstrate you're forward-thinking and innovative
Encourage staff to use electric vehicles, even offer them reduced electricity perks
Save money fuelling your fleet vehicles
Give customers a reason to visit your business while they charge their vehicle
Add a new revenue stream to your business
A charging point outside your business is a great way to showcase your commitment to changing the way we treat our environment. Customers will see you as a modern, innovative business improving your reputation.
Staff perks
Why not allow your team to charge their vehicles at work, encourage and promote an environmentally friendly culture in your organisation and use discounted pricing as perks for staff performance or even offer power for free? Since April 2018 there's no benefit in kind tax to pay on electric for your vehicle from the workplace. If your staff have company vehicles and a fuel card, start the transition to electric vehicles and save money on fuel costs.
Alternatively, add an entirely new revenue stream to your business and improve service by attracting customers to use your charging points and spend time in your business while they wait. Perfect for restaurants, cafes, and shopping outlets.
If you want to find out how an electric vehicle charge point could help your business achieve its goals, get in touch with our team today.