One of our long-standing clients had a requirement for an office network cabling installation and electrical fit-out due to an office repurposing. The works had to be scheduled and completed to allow the office to be operational on the required move-in date. Its a fact that whenever clients want to move offices around the power and data is never in the right place for the new desk layouts. So we have to provide the best solutions to get the moves and changes accommodated.
Network Cabling Installation
The office required a new data network cabling installation as there was no existing infrastructure. Firstly, this required a new 9U wall-mounted rack to patch out the Cat5e data outlets from the new patch panel. Secondly, a 4 core OM3 fibre cable was required to be installed to link the new rack to the local network cabinet.
The next part required the installation of the cable containment to protect the cables running between the rack and outlets. This was specified as dado trunking as the design included electrical cables to provide power adjacent to the data outlets. Three compartment dado trunking looks very neat and provides containment for both Network and electrical cables maintaining segregation.
The electrician had to install 30 DSSO MK sockets around the office in the new Dado trunking terminated into a 32Amp Type C RCBO. Furthermore, three new 20m radial supplies were installed from the local board to supply 3 new 32A RCBO for distribution.
Network Copper and Fibe Optic Cable Testing
On completion, the copper and fibre cabling has to be fully tested with DTX and OTDR specialist test equipment. This ensures that the newly installed cabling will function correctly while carrying data signals.
When we complete any electrical installation, a new installation electrical test has to be carried out to electrically certificate the works. Furthermore, as an NICEIC approved electrical contractors all our electrical works are audited annually ensuring that our works comply with the 18th edition regulations.
On completion of the works, the client inspects the data and electrical installation and signs off as satisfactorily completed. Another quality installation carried out for a satisfied client.
Often these project can also require the additional installation services of:-
Project Skills Solutions have developed their services over 16 years to provide a single-source solution. If you have a project we offer free surveys and quotations call 0800 0213 264 or e-mail info@pssinstallations.co.uk
Before Works Commence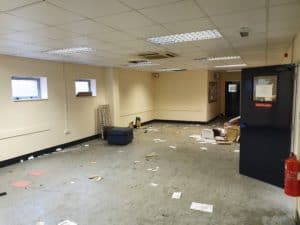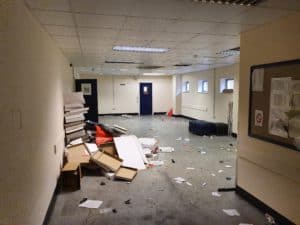 Electrical Containment Installation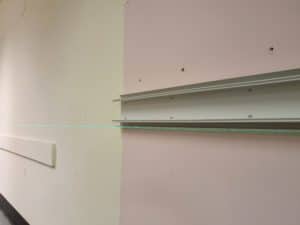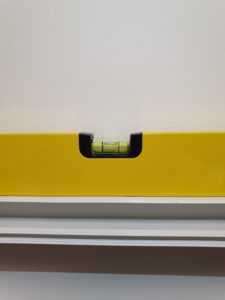 Network Data Cabling & Electrical Distribution Cabling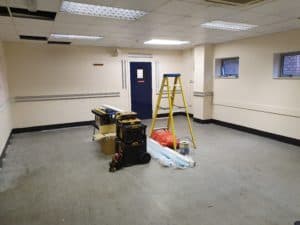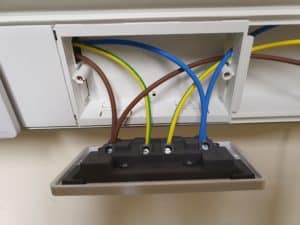 Cat5e Cabling installation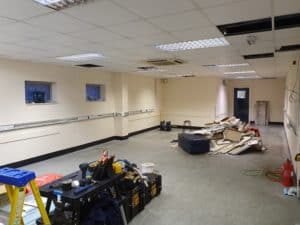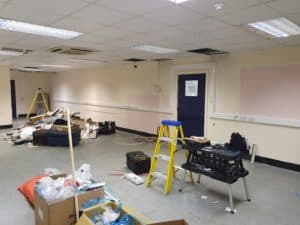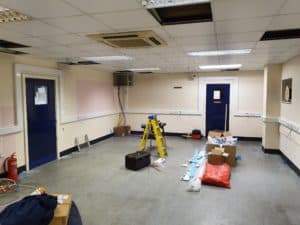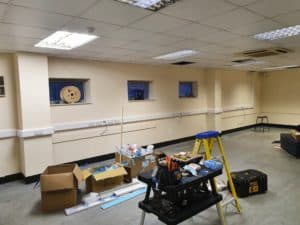 Electrical Socket in dado trunking installation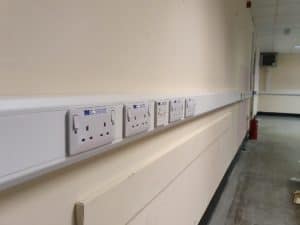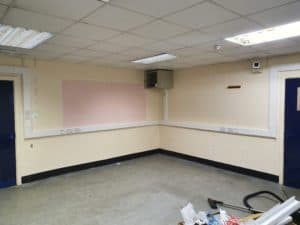 Data Rack wall mounted installation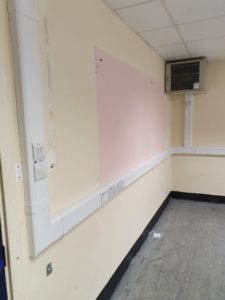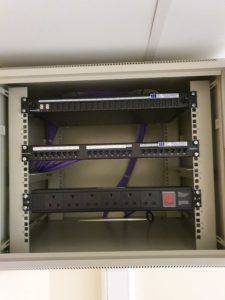 Om3 Fibre cable installation London