Electrical safety certificate for landlords what's involved?
Firstly, if you have a single property or a portfolio then each is required to have an electrical safety certificate. It is a legal requirement to ensure all electrical equipment in your property is safe and maintained throughout the tenancy. This responsibility covers all lighting fixtures, all plug sockets, as well as all electrical wiring.
So, be aware that you have to meet your legal responsibilities or you could face prosecution and invalidated insurance.  This page and its links to more information about what takes place during the electrical safety tests.
Electrical Safety Certificate for Landlords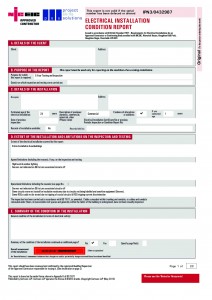 Firstly if you have an existing EICR electrical safety certificate that is about to expire we can quote the EICR cost. The landlord's electrical safety certificate shows the number of circuits within the property. This information allows an electrical contractor to provide you with the EICR cost.
So, how do I get a price if you have never had an electrical test carried out on the property? An EICR price can be calculated by supplying the number of MCB (Fuses) in the distribution board (s). Once you have agreed to the quoted price then we will arrange an appointment on a suitable date. Depending on the size and condition of the property the testing can take just a few hours. This EICR testing can be carried out with residents occupying the property. We will advise them when any power requires to be turned off.
The electrician will carry out a visual inspection as well as electrical testing for its compliance with the 18th Edition regulations.
EICR Test Sheets
During the electrical tests, the electrician will fill in EICR test sheets with the results of tests as they perform them. The purpose of the EICR test sheets is to collect the information required for the electrical safety certificate for landlords.
Once the completed test result sheets are uploaded to our systems and audited for compliance this allows the EICR report to be completed.
EICR
The main purpose of the EICR is to check that the fixed electrical wiring and associated equipment are safe. If during the electrical testing faults are found then they are categorized as follows.
C1: Immediate Action Required, Danger Present. This code means that there is a risk of injury and immediate remedial action is required. You will be advised to take immediate action without delay.
C2: Urgent Action Required, this is not as severe as a C1 fault but is still a potentially dangerous defect. Urgent remedial action is still required.
C3: Improvement Recommended,
FI: Further investigation required.
The electrician in most cases would be able to advise the landlord while at the property of any faults found. Generally, any C1 and C2 faults would be quoted and if agreed cleared where possible during the same visit. These fault categories along with FI will result in the EICR being issued as unsatisfactory and you should action these repairs urgently.
Common EICR Failures
Many of the faults found while carrying out the fixed wire electrical testing are very easy to remedy. The common EICR faults can be broken sockets, lights, and exposed wiring. More serious are earthing faults as this is used to protect occupants from electric shock. Earth cables provide a path as a protective conductor for a fault current to earth. It also causes the protective device either a circuit breaker or fuse to switch off the electric current to the circuit that has the fault.
Earthing faults can be as simple as bonding cables being removed by other trades when carrying out works on the property. Bonding is used to reduce the risk of electric shocks to anyone who may touch two separate metal parts when there is a fault somewhere in the supply of electrical installation. By connecting bonding conductors between particular parts, it reduces the voltage there might have been. The types of bonding generally used are main bonding and supplementary bonding.
Typical EICR faults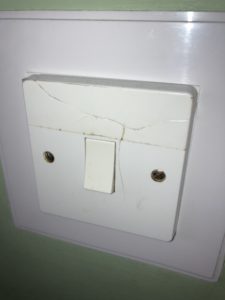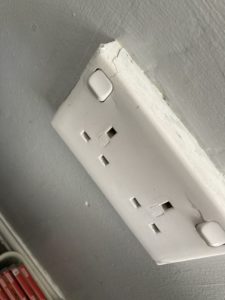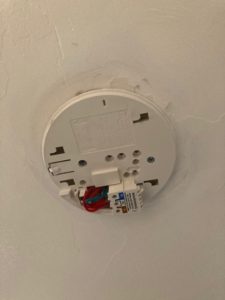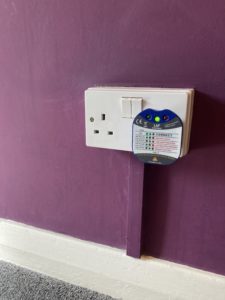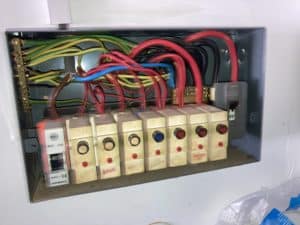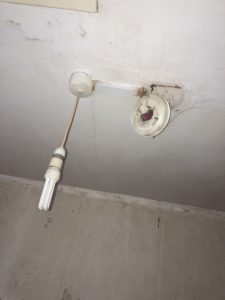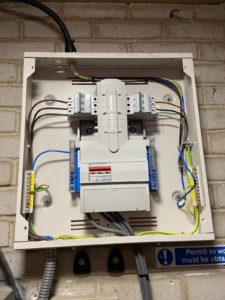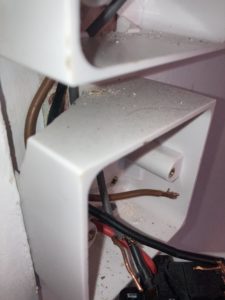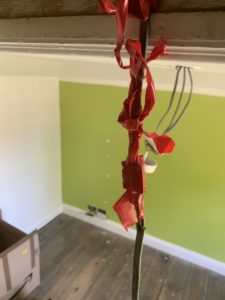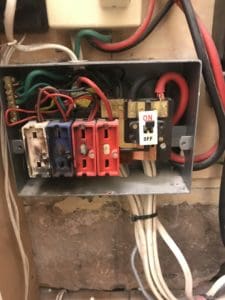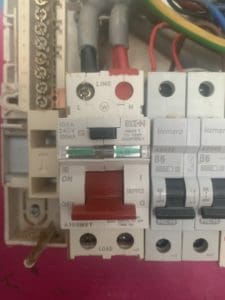 What happens if my property fails the EICR testing
Firstly you will be notified of what has caused the property to fail the electrical testing and the faults will be categorized as described under EICR above. Depending on the category will be advised of how quickly you need to get the repairs carried out as this is a matter of safety. The report will specify how long you have it ay be up to 28 days or sooner. Generally, we can carry out the remedial works required while still at the property. We will advise you of the cost of the required works and not proceed until that you have confirmed acceptance. If the failures are substantial we may have to arrange a return visit. However, due to the number of electricians we have, you will not have to wait long to get the works carried out and property compliant.
Landlords should be aware that the local authority has the power to issue civil penalties of up to £30,000 per breach of electrical safety regulation. Therefore you should not delay in getting any repairs complete and the electrical safety certificate issued.
Electrical Safety Certificate
So once the property has passed the electrical testing and any faults cleared the EICR electrical safety certificate can be issued. This electrical safety certificate / EICR will be valid for 1 – 5 years depending on the property type. Below is information on what electrical inspection period applies to your property type and how long the electrical safety certificate for landlords remains valid.
5-year electrical test: are required for commercial properties such as shops, offices, hospitals
3-year electrical test: industrial premises
1-year electrical test: places subject to an entertainment license, public swimming pools, caravan parks
Private Rented Sector Scheme: legislative requirements from 1st June 2020 for Landlords
10-year or change of occupancy: domestic test
More Advice
So hopefully you now have a better understanding of what is involved in gaining an electrical safety certificate for landlords. However, your property requirements may be complicated possibly involving electrical works for new builds or commercial properties. You may want to talk through your requirement we fully understand and our team is always happy to discuss and advise on your requirements. It's important that you select a competent and approved electrical contractor to carry out your electrical works. If you are a property manager with a large portfolio of tenanted properties that require EICR then we can help see our case study on our social housing contracts requiring 1000's of EICR tests each month.  You can call us on 0800 0213 264 or contact us here
Electrical Definitions
EICR – Electrical Installation Condition Report. Formerly called a Periodic Inspection Report (or PIR). A report to establish the overall condition of all the electrics in a building, stating whether it is satisfactory for continued use and detailing any work that might need to be done.
Earth Bonding – A way of reducing the risk of getting an electric shock.
Conductors – Wires that carry electricity.
Consumer Unit – Also known as a fusebox, consumer control unit or electricity control unit. A particular type of distribution board comprising a co-ordinated assembly for the control and distribution of electrical energy, principally in domestic premises, incorporating manual means of double-pole isolation on the incoming circuit(s) and an assembly of one or more fuses, circuit-breakers, residual current operated devices or signaling and other devices purposely manufactured for such use.

Distribution Board

An assembly containing switching or protective devices (e.g. fuses, circuit-breakers, residual current operated devices) associated with one or more outgoing circuits fed from one or more incoming circuits, together with terminals for the neutral and protective circuit conductors. It may also include signaling and other control devices. Means of isolation may be included in the board or maybe provided separately.

Current – Flowing electricity.
Earth – A connection to the ground.
Earthing – A way of preventing electric shocks.
Electrical installation – a fixed wiring system.
Electrical Testing & Inspection – Visual inspection and electrical testing of the building's fixed wiring and accessories.
Live – Active (there is electricity).
Fixed wiring terms
Main bonding – Green and yellow conductors that connect metal pipes (gas, water or oil) from inside a building to the main earthing terminal of the electrical installation. The main bonding connections may also be made outside the building, for example where a semi-enclosed gas meter box is installed outside and it is not possible to install a bond to the gas installation pipework indoors.
Main earthing terminal – Where earthing and bonding conductors are connected together.

Circuit Breaker or RCD

A device capable of making, carrying, and breaking normal load currents and also making and automatically breaking, under pre-determined conditions, abnormal currents such as short-circuit currents. It is usually required to operate infrequently although some types are suitable for frequent operation.

Supplementary bonding – Green and yellow conductors that connect accessible metal parts of electrical equipment (such as a heated towel rail) to accessible metal parts of items of electrical equipment and/or accessible metal parts of items that are not electrical (such as pipes). These connections are made to prevent a dangerous voltage between two accessible metal parts, in case there is a fault. You may need supplementary bonding for rooms containing a bath or shower, except where all circuits in the room are RCD protected and the main bonding is up to the required standard.