We are delighted to bring you our latest news, showcasing our comprehensive range of electrical services tailored specifically for social housing associations. With over 6 years of experience in the industry, we have been successfully supporting numerous housing associations across Essex and London, ensuring safe and efficient electrical systems within their properties.
At Project Skills Solutions, we understand the unique challenges faced by social housing associations. The need to maintain electrical infrastructure, provide a safe living environment for tenants, and ensure compliance with regulations can be a daunting task. That's why we have built a team of highly skilled and experienced electricians who are ready to deliver professional services to meet your specific requirements.
Our Electrical Services
Electrical Installations:
Our team is equipped to carry out all types of electrical installations, whether it's a new build or an upgrade project. We work closely with you to understand your needs, ensuring that our solutions align with your objectives and budget.
Electrical Testing and Inspection:
Ensuring the electrical installations in their rented properties are inspected and tested by a qualified and competent person at an interval of at least every 5 years or change of tenant. Our NICEIC-approved electricians have conducted thousands of thorough EICR inspections, identifying any potential hazards and carrying out any required remedial actions. Furthermore, our team will implement the housing association's EICR program by contacting tenants and arranging appointments.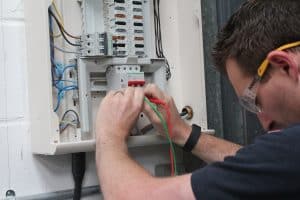 Electrical Repairs and Maintenance:
We offer prompt and efficient repair electrical services to address any electrical issues that may arise within your social housing properties. Our team is available round the clock to provide reliable assistance and minimize downtime.
Emergency Callouts:
Electrical emergencies can occur anytime, and our team is prepared to respond swiftly to any urgent situation. We understand the importance of immediate action and have the expertise to resolve emergencies efficiently and effectively. Our project support team effectively manages our field electricians tracking their location and progress. This allows them to efficiently dispatch the nearest electrician to attend to the emergency.
Compliance and Certification:
As an NICEIC-approved electrical contractor, we adhere to the highest industry standards and ensure that all our work meets the current (BS 7671 is the national standard to which all electrical installations should conform ) 18th Edition electrical regulations. We provide the necessary certification for every job we undertake, giving you peace of mind and maintaining compliance with legal requirements.
Why Choose Project Skills Solutions?
Expertise:
With vast experience serving social housing associations, we possess the knowledge and skills to address your unique needs effectively. Our team undergoes regular Skills & health and safety training to stay up-to-date with the latest industry practices and regulations.
Reliability:
We take pride in our commitment to delivering reliable services to our clients. You can count on our electricians to arrive on time, complete projects within agreed timelines, and provide transparent communication throughout the process. Full contract support is provided with a dedicated support team and qualified management.
Customer Satisfaction:
Our priority is your satisfaction. We strive to build long-term relationships with our clients, and our dedicated customer support team is always ready to assist you, ensuring a smooth and hassle-free experience.
Quality Assurance:
We believe in delivering excellence in every aspect of our work. Our rigorous quality control measures ensure that all our services meet the highest standards, providing you with exceptional results. We have held the ISO 9001 certification for over 15 years ensuring our processes and systems meet the standard.
Cost-Effective Solutions:
We understand the financial constraints faced by social housing associations. Our services are competitively priced, and we work with you to find cost-effective solutions without compromising on quality.
Are you ready to partner with a trusted electrical services provider for your social housing association? Then look no further than Project Skills Solutions! Our team is ready to discuss your requirements, answer any queries you may have, and provide a tailored solution to meet your needs.