Project Skills Solutions an electrical contractor in Basildon Essex is pleased to be experiencing continued and rapid growth across all of our services. This has been due to our existing clients placing additional works with us and new contract wins.
Electrical Contractor in Essex
So what is driving this increased business?
Firstly, we believe it is solely due to the importance that we place on our delivery of services and customer satisfaction. This is often overlooked when work is plentiful and companies expect a percentage of client loss (burn) to be acceptable. This is what sets us aside as a family business our ethic is that every client counts large or small. So we work hard to retain clients which is achieved by our responsive running and management of contracts.
Secondly, it's down to being responsive to our client's requirements and expanding our range of services and resources to deliver them. This is challenging but we developed our processes early on within our ISO 9001 QMS system. This provides us with the ability to expand by repeatedly implementing proven processes. Since 2020 we have doubled our electrical resource to 25 electricians, improvers, and apprentices. We are always looking for additional staff as you can see by visiting our Jobs board.
After 17 years of being in business, we know it pays to keep clients satisfied with the amount of repeat business that we experience.
Contract Management
The final and extremely important component to being able to expand the size of contracts we can undertake. It's not just a matter of men in vans to get the job done. The office support required to run contracts efficiently is often overlooked. Without support your field engineers soon become inefficient, disillusioned and contracts will quickly fail.
So what makes a good project team? let's take a look at our support team:-
Management with the technical skills to support the range of services
Office Administration & coordination support
QS team for electrical certification and work compliance checks
Field Supervision
Field Quality assurance
Health and Safety Manager for RAMS and site inspections
Qualified Electrical Field
Apprentices so that we have a flow of electricians trained to work to our standards.
Training Support through our training division
Our current contracts have required us to add additional resources in order to maintain the quality of our services and intern win more business.
Electrical Support Services Provided
We have become electrical contractor specialists in the social housing sector over the last 5 years. It is a tough and demanding area that has to be run extremely efficiently. This is why the support team has been developed to meet the level to efficiently run social housing contracts.
Typical electrical support services that are provided.
Lettering and arranging tenant appointments
Day to Day repairs and 24/7 emergencies
Planned works Voids, Fuse board Upgrades
Kitchen & Bathroom & Lighting &
Important Accreditations for electrical contractors
So, why is it important that the services that are provided are accredited by the responsible awarding body?
Firstly, it ensures that electrical works are carried out to the latest 18th edition regulations. Many clients are not electrically qualified so they rely on and trust the electrical contractor that the works are completed correctly.
Secondly, NICEIC Approved electrical contractors undergo annual audits and inspections of their electrical works. The complete or in-progress works are randomly selected and visited by the contracts QS and the NICEIC inspector.
Finally, Project Skills Solutions have been an NICEIC Electrical contractor in Essex since 2005. Every year we have passed the audit without failures. This is another important element of our continued growth and success.
Award-Winning Electrical Contractor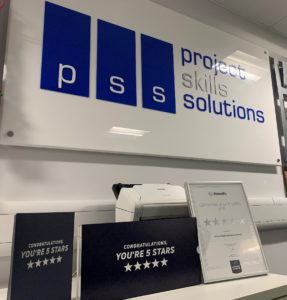 It is always appreciated when the quality of your electrical services receives recognition with a 5-star award from Plentific. Providing further evidence of Project Skills Solutions being an electrical contractor who provides electrical services to the highest standards.
Electrical range of services available
So, what is the difference between an electrician and an electrical contractor?
An electrician is a person who is trained and usually approved to perform electrical work. Electricians can choose to work for themselves, for other companies, or electrical contractors. So while an electrical contractor can mean the business, an electrician almost always means an individual.
We deliver these services using a range of qualified employees many being electricians. So, generally, the difference is the size of the works that either would be capable of undertaking view our case studies for our contract sizes and range. Here is more information on how to choose the right electrical contractor for your project.
As an electrical contractor based in Basildon Essex, we have developed our range of services over the last 17 years to provide total solutions. Firstly our core is electrical services but clients want to minimize services suppliers involved in contracts.
So, we have developed our electrical contractor capability to deliver:-
Air Conditioning and ventilation
Kitchen and Bathroom upgrades and installations.
Plumbing
Small building works
Void Property refurbishment and clearance
Firstly, being based in Basildon, Essex it is an ideal location to give our electricians access to major routes around Essex and into London. Furthermore, Essex has a population of just under 2 million and 650,000 dwellings making the demand for our electrical services high.
Finally, as an Electrical Contractor, we offer our electrical services covering the following areas
Basildon
Essex
London
Suffolk
Norfolk
Kent
Hertfordshire
Surrey
Bedfordshire
Buckinghamshire