What is an EICR Test and how do I book one?
An EICR Test is an Electrical Installation Condition Report. This report is an important part of being a property owner. It exists to ensure that all electrical installations in the property are in a safe and reliable condition and can be used without danger. As of April 2021, it is now a legal requirement for business owners and landlords to carry out an EICR test procedure in their property, all of which you can read below under 'Legal Duties'.
If you are looking to book an EICR test for a property, give us a call on: 0800 0213 264 or you can fill out the contact form at the bottom of the page and one of our team will get back to you.
EICR Cost Calculator
See the table below for guidance prices for the most common property EICR costs. Answer the questions below and leave your contact details, and we can then get in touch to find a time that works for you. If you need an EICR certificate urgently, calling 0800 0213 264 is the quickest way to get a quote.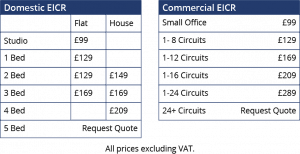 Contents
What is EICR Testing?
An Electrical Installation Condition Report (EICR) is necessary electrical testing that thoroughly examines electrical wiring installation and systems. A qualified electrical engineer must undertake it because it's mostly an inspection of what can't be seen by the naked eye. Firstly the electrician will need sufficient training to perform the EICR test procedure safely. Secondly, have the training and experience to identify any potential danger in the internal electrical wiring system.
Landlord EICR
EICR Electrical testing is significant to business owners and landlords. This is because they are directly responsible for anyone on their property. It's unclear what happens during the EICR tests, so it isn't easy to know why it's so important. This blog is going to give a detailed description of the process. It provides information on the test and explains what the electrical engineer is explicitly looking for while completing the EICR test sheets.
The EICR Electrical Testing Procedure
The qualified engineer will be assessing the overall build quality, performance and safety of an electrical installation. They will be looking out, especially for any deterioration or defects.
The first stage of the test is usually a visual assessment. Equipment will be inspected to see if anything is clearly in need of repair or replacement. There might be breaks or cracks in appliances. There also may be obvious signs of overheating, in which case the equipment will need replacing. In older properties, the distribution board may be a fuse cartridge which would now be changed for an MCB board. This electrical upgrade offers far greater protection with RCD, and Earth leakage monitors that trip when a fault occurs.
Next, the qualified electrician will have to disconnect the electrical installation from the mains power supply. Specific circuits will undergo dead testing to identify any wires which are inadequately connected. There will also be live electrical testing. These include a precautionary test to check that if there does happen to be a fault in the system, it will disconnect within the time limit. This test, in particular, highlights one of the most important reasons for EICR tests. It checks if components are in suitable condition to work as intended in the future.
The qualified electrician will also check whether the quality of the earthing and bonding is sufficient and whether the earth protection is sufficient. There will also be a further examination of the following equipment: switches, sockets, power outlets, light fittings and any sockets installed in the property. The frequency of EICR testing varies with property type. To check when you need your property tested, click here 
The EICR Report/ EICR Certificate
Once the electrical testing has been completed, the approved contractor will provide the owner with an Electrical Installation Condition Report (EICR) also known as an EICR certificate. The EICR is an important report which from July 2020 is now a legal requirement, has become a standard requirement for landlords and business owners. It will contain organized and detailed feedback on the condition of your electrical installation, and will either be classified as satisfactory or unsatisfactory. To see a typical outcome of an EICR test and the type of failures click here to see an EICR test case study.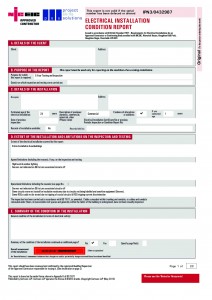 Legal Duties
In Scotland, it is the law for landlords to regularly undertake EICR tests on their property. This is because of the importance of guaranteeing the safety of their tenants from electrical accidents.  
The Government introduced legislative requirements on 1st June 2020 for Landlords in the Private Rented Sector in England. The Government has proposed detailed regulations for enforcing mandatory five-year electrical safety checks in the private rented sector from July this year.
From 1st July 2020, all-new specified tenancies require an electrical safety check to be in place.
From 1st April 2021, all existing specified tenancies require an electrical safety check to be in place.
When it comes to the condition of electrical equipment, it's better to be safe and eliminate all risks. When performed by a qualified electrician, the EICR test is extensive and meticulously carried out. This will give you peace of mind about the safety of electrical wiring in your property. 
EICR testing company covering Essex
Here at PSS Installations, we are NICEIC approved contractors and have qualified engineers well-practiced in undertaking EICR tests. Our office is in Basildon, Essex making us ideally located for covering all of Essex. Furthermore, our electrical engineers are fully mobile and live across the county. This allows us to offer very competitive EICR Testing prices in Essex and London.
How long will I have to wait for the EICR to be carried out
When you require an EICR Certificate and test carried out on your property urgently, we can generally accommodate. With our qualified team of electricians carrying out planned and reactive maintenance, we have the resource required for urgent EICR testing. Alternatively, you can request a specific date & time, and we will also accommodate. So, you shouldn't have to wait to get your EICR testing carried out when booking it with Project Skills Solutions.