The government have introduced a voucher-based grant scheme to provide up to £350 towards each electric vehicle charge point you have installed (from 1st April 2020. Before April 2020 it was £500 per point). The workplace charging scheme provides funding to businesses for up to 40 points.
The Electric Vehicle Home charge Scheme is similar but is for electric vehicle charge points at your home, not your workplace. Still £350 available per point.
Do I qualify?
So does my workplace qualify? What's the small print?
"You'll get 75% of purchase and installation costs, up to a maximum of £350 for each socket, up to a maximum of 40 across all sites for each applicant. " – Workplace Charging Scheme  Guidance.
You qualify if:
You're a business, charity or public authority
Have dedicated off-street parking for staff or fleet use.
You can declare a need for electric vehicle charging equipment or an intent to encourage uptake among their staff or fleet.
Located in England, Wales, Scotland, Northern Ireland
Own the property or have consent from the landlord
If you've already used a voucher for charge points, you can apply again for more so long as the total doesn't exceed 20.
How do I claim?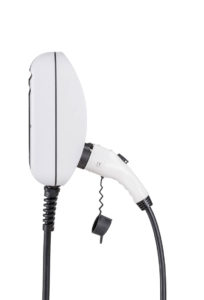 It's simple to apply, and we will help, the process is online, and you can start it here Click Her for Electric Charge point OLEV Grants . Paper forms are no longer accepted now it's all online. If you're eligible, you'll be issued a voucher code onscreen and receive a confirmation letter.
Once you have the voucher, you give the code to the approved company installing your charge point, and they claim the £350. You won't have to pay that upfront and claim back. You just pay the remainder after the £350 grant has been removed from the total cost. The process is seamless and straightforward.
Once you have your workplace charge point set up, your employees can charge their vehicles at work. You can offer the electricity to employees for free as a work perk and incentive for them to switch to electric. Since 6th April 2018 employees will not be taxed on the value of the electric as a benefit in kind.
What's the OLEV?
You'll see articles about the 'OLEV grant' or 'OLEV funding' so what is the 'OLEV'. It's the Office for Low Emission Vehicles; basically, a group of people from the Department of Business, Energy and Industrial Strategy endorsed by the industry.
So what do they do for you? Their job is to support the early market and adoption of electric and other low emission vehicles. They do this through research, partnerships, grants and funding.
Other Funding for Electric Vehicles
Plug-in grant
Select vehicles are eligible to receive 35% of the purchase price up to a maximum of £3,500. Different types of vehicle allow you to claim different amounts from the grant.
Cars that have CO2 emissions of less than 50g/km and can travel 70 miles without any emissions at all are eligible for the maximum £3,500. A list and full details can be found at https://www.gov.uk/plug-in-car-van-grants.
Motorcycles that have no CO2 emissions and can travel at least 31 miles between charges are eligible for 20% of the purchase price up to a maximum of £1,500.
Mopeds that have no CO2 emissions and can travel at least 19 miles between charges are eligible for 20% of the purchase price up to a maximum of £1,500.
Vans, to encourage take-up from businesses, are eligible for the highest amount of grant funding. If you purchase a van with CO2 emissions of less than 75g/km and can travel at least 10 miles without any emissions, you'll be eligible for 20% of the purchase price up to £8,000.
Update 1st April
In March 2020 the government decided to change the funding, from 1st April 2020 funding per charge point will be reduced from £500 to £350, the max number of points eligible for funding has also changed from 20 to 40.
So you'll get less grant per point but you can get more points.
OLEV Approved Installation Company Essex
If you require electric vehicle charging for your home or workplace then Project Skills Solutions are:-