What Is An EICR
An Electrical Installation Condition Report (EICR) is an inspection of the condition of an existing electrical installation, fixed wiring, to identify (in order of priority) any deficiencies against the national safety standard for electrical installations. Up until 2011 this was called a Periodic inspection report.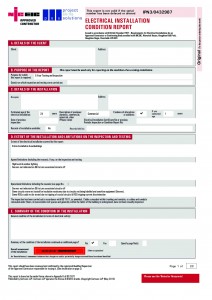 An Electrical Installation Condition Report is an in-depth inspection and test of an existing electrical installation by a suitably qualified electrician or electrical contractor who has a good working knowledge and experience of electrical installations and is reported on a form that complies with the current wiring regulations, BS7671:2008+A3:2015. Project Skills Solutions are NICEIC approved contractors so our EICR will be an NICEIC Electrical Installation Condition Report which is completed as the test and inspection takes place. The report is very detailed as a range of tests are carried out on each circuit to ensure that the safety measures that have been put in place will operate correctly in fault conditions. This includes determining that the earth fault path is effective enough to result in automatic disconnection of the supply in the event of a fault, that the wiring is in good condition and that the residual current device (RCD) operates quickly enough to avoid any danger to the users of the installation.
Depending on the size of the property carrying out the required tests can take days or even weeks, especially for some larger commercial or industrial installations.
When are EICR Test Carried Out?
This depends on the type of premises below are guidelines but is highly recommended for new buildings being purchased or it quite often is an insurance requirement.
Type of Installation
Routine check
sub clause 3.5
Maximum period between Inspections
and testing as necessary
Reference
see notes
below.
General Installation
Domestic
Commercial
Educational estab
Hospitals
Industrial
Residential accom
Offices
Shops
Laboratories
Sellers pack
1 year
4 months
1 year
1 year
any change / 1 year
1 year
1 year
1 year
any change/10 yrs
any change/5 years
3 years
3 years
3 years
5 years
5 years
5 years
5 years
0.0
1.2
1.2
1.2
1.2
1.0
1.2
1.2
1.2
Buildings open to the public.
Cinemas
1 year
3 year
2,6,7
Church installations
1 year
5 years
2
Leisure complexes(no pools)
1 year
3 years
1,2,6
Public entertainment
1 year
3 years
1,2,6
Restaurants / Hotels
1 year
5 years
1,2,6
Theatres
1 year
3 years
2,6,7
Public houses / Bars
1 year
5 years
1,2,6
Village hall / centres
1 year
5 years
1,2
Special Installations
Agricultural / Horticultural
1 year
3 years
1,2
Caravans
1 year
3 years
0.0
Caravan Parks
6 Months
1 year
1,2,6
Highway power supplies
as convenient
6 years
0.0
Marinas
4 Months
1 year
1,2
Fish farms
4 Months
1 year
1,2
Swimming pools
4 Months
1 year
1,2,6
Emergency lighting
Daily / Monthly
3 years
2,3,4
Fire Alarms
Daily/weekly/monthly
1 year
2,4,5
Laundrettes
1 year
1 years
1,2,6
Petrol stations
1 year
1 year
1,2,6
Construction sites
3 Months
3 Months
1,2
Reference Key
1. Particular attention must be taken to comply with SI 1988 No1057. The electricity supply regulations 1988(as amended)
2. SI 1989 No 635. The electricity at work regulations 1989 (Regulation 4 & memorandum).
3. See BS 5266: Part1: 1988 Code of practice for the emergency lighting of premises other than cinemas and certain other specified premises used for entertainment.
4. Other intervals are recommended for testing operations of batteries and generators.
5. Se BS5839:Part1: 1988 Code of practice for system design installation and servicing (Fire detection and alarm systems for buildings).
6. Local authority conditions of license.
7. SI 1995 No 1129 (Clause 27) The cinematograph (Safety) Regulations.
The testing and completion of an EICR will pick up any potential problem before it can become serious, or even hazardous.
The testing will involve the following:
Visual inspection:
This is where the electrician will survey the electrical installation before they commence with the electrical testing. The visual inspection will highlight broken or cracked devices, where devices may have been installed in the wrong location, or if there have been overloading or over heating problems.
Electrical testing with the use of electrical test meters include:
Dead testing
Continuity testing: a test to check if there are any badly connected conductors.
Insulation resistance testing: this test is to make sure that the electrical insulation material surrounding the conductors is intact.
Polarity: this test is to check that the connection is connected in the right sequence.
Live Testing
Earth fault loop impedance testing: this test is to check that if a fault did occur, that the system meets requirements to cause a disconnection of the supply within the time limit specified
RCD testing: on modern electrical systems RCD's and RCBO's are regularly fitted, these devices react to electricity missing from the circuit or installation such as when a person is receiving an electric shock as the electricity passes through his body to the ground (earth)
During the testing, the completion of the EICR observations will be recorded and given a code of C1, C2 or C3 in regard to defects or omissions within the electrical installation being tested.
C1 = Danger Present, Immediate Remedial Action Required, There is a risk of injury and that immediate remedial action is required to remove the dangerous condition
C2 = Potential Danger Urgent Remedial Action Required, Potentially dangerous condition': Urgent remedial action required, this should declare the nature of the problem, not the remedial actions required.
C3 = Improvement Recommended, This code more often than not implies that while the installation may not comply with the current set of regulations, complies with a previous set of regulations and so is deemed to be safe although this safety can be improved upon
On completion of the EICR, the findings will be explained and recorded and an estimate for any required remedial works raised and supplied to the client.
What is the cost of an EICR Test?
Generally, the cost will be determined by the number of circuits in the building to be tested and quoted on a price per circuit. This price includes the testing as outlined above and a completed EICR with any notifications of remedial works. (Beware prices vary and so does the quality of the tests performed don't be fooled by cheap prices and make sure you use an NICEIC-accredited company like us). The table below is for a rough price guide. If you leave your email at the end, we will get in touch and get you booked in for an EICR test as soon as possible.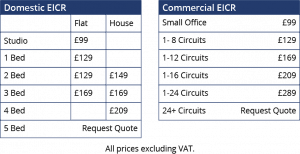 So how do you know how many circuits there are in a building? The easiest way is to check the previous EICR that will list each circuit tested by each distribution board and total them up alternatively send copies to us and we will do it for you and advise the cost. If the building doesn't have an EICR then you would have to count the circuits listed in each distribution board or we can carry out a survey.
On larger installations it is possible to carry out a 20% test every year for 5 years as long as the system is shown to be in a good state of repair, this is a particularly appealing solution to large premises such as factories where it might not be feasible to carry out the inspection in one hit and there is a long track record of the good electrical maintenance.
Free Survey and No-Obligation Electrical Testing Quotes
Call or contact us now for more information or to discuss any questions you may have on EICR testing, our friendly team is happy to help.
EICR Failures
Take a look at some pictures below to give you an idea of circuits that fail during an EICR.
Let's Discuss EICR
Electrical Testing – Fixed wire testing – 5-year periodic electrical test & inspection – EICR testing is a description for the same test carried out on a premises' electrical cabling and accessories.
How much does an electrical fixed wire test cost?
The EICR cost is calculated on a price per circuit basis plus a minimum charge so it is easy and quick for us to quote if you can provide the required information in most cases while you are on the phone.
How many electrical circuits do I have?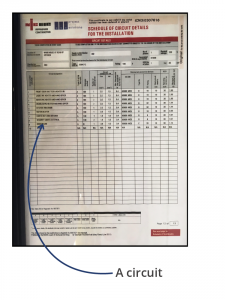 So how do you work out how many circuits you have? The easiest way and probably the most accurate is to send us a copy of the existing electrical certificate (see the image of electrical certificate). This shows down the left-hand side column the circuit number and if you see how many lines there are and that line number is the number of circuits to be tested on a single-phase board. A three-phase board will have a letter and two numbers (ie 2L2). This will also tell us if this is a three-phase board and how many extra circuits there are.
Counting electrical circuits on your electrical distribution (fuse) board
If you can't find the electrical certificate or the building has never been tested then you can provide the number of circuits be counting the number of breakers (trip switches) in the distribution board (see two images of different types of distribution boards) the arrows point to a breaker (or you may have a fuse cartridge if an old system).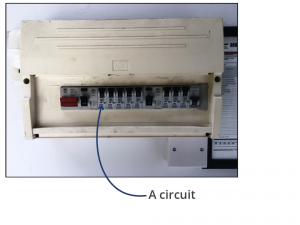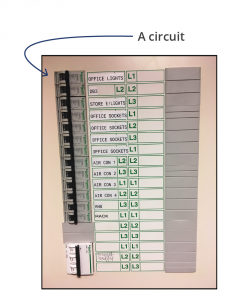 Be aware that your building may have more than one distribution board if it is, for example, a commercial property so look to ensure that you find all of them for us to quote accurately.
If you miss a board then it's not a problem as we can amend the price for the additional circuits in the same way as we quoted you initially but its best for you to budget if you give us an accurate count at the beginning.
Once the testing is complete then an electrical certificate will be issued which will show any failures if found during the testing. We will quote without obligation any required remedial works and time scales for the works to be completed.
Note:
C1 – Immediate remedial attention required (this could be a live wire exposed etc)
C2 – Urgent remedial attention required (This could be a damaged accessory that could cause an injury/fire)
C3 – Improvement recommended (this could be not conforming to the latest regulations)
FI – Further investigation required without delay ( This could be an untraced circuit, therefore not tested)
All C1, C2 & FI will cause a failure in the installation and therefore will be 'Unsatisfactory'. We will quote to remedy these in the days following the report.
Fixed Wire Testing FAQ's
How long will the works take?
Once quoted we can advise the expected duration based on the number of circuits.
As a guide:
A landlords test or domestic house with one board will normally take 2 to 4 hours.
Commercial property, depending on the number of distribution boards, circuits and work environment (offices, machinery etc) will normally be completed in a day or two. If there are more circuits than usual than we aim around 20 – 25 circuits per day to be tested.
What disruption to our electrical supplies can we expect?
There are different ways of testing a circuit. In general, and ideally, we would disconnect the circuits from the board and test the cabling individually with all accessories removed and inspected. In doing this all machinery/PCs etc would need to be switched off and unplugged from their designated outlets. If you have sensitive equipment such as servers or CCTV then we would ask if you can shut these down to be unplugged, if however, this is not feasible then we would put this as a limitation on the report and conduct a visual check to all accessible parts to that circuit. This is not ideal, however, we do understand that there are always critical items that can not be switched off.
If, for example in an office, we would require to switch off lighting circuits to test these then we would work around you to minimise disruption as much as possible.
So, in general, all circuits need to be switched off to complete the full test. Our aim will always to work with minimal disruption so any potential issues will be discussed and planned before commencement. Critical areas can be planned and quoted for out of hours working if the client requires.
EICR Test Company near me
If you require an EICR Test on a Commercial or Residential property you can get an instant quote from us. Our electrical testing guide prices can be seen on the Electrical Testing & Inspection Services page.