When deciding to purchase an Electric Vehicle for business or personal use you need to plan your charging options. There are a lot of options to consider when purchasing an Electric vehicle for the first time. So, let's assume you've made your model choice and now it's on its way you need a to consider charging options. Electric car charger installation will be a consideration if you want to charge your vehicle at work or at home. There's a lot to consider and you've just taken the biggest decision by actually purchasing an electric vehicle. Now its time to plan if you how you will keep the vehicle charged sufficiently for the daily commute.
Electric Car Charger Installation Services in Essex
In 2019 it was estimated that around 80% of all-electric car charging took place at home. Charging cars at home benefits generally from cheaper tariffs and is more convenient for the vehicle owner. However, the possible disadvantages are that the charger will be slower than the fast chargers on external sites. Due to the electrical supply in a domestic property, you will be restricted to a 3.6kW or 7kW. Charging time would typically be 11 hours and 5 to 7 hours respectively for a full charge of approx 200 to 250 miles (dependant on EV model). So, with the daily commute suggested being on average 25 – 50 miles for many drivers home charging is a viable option.
If you are a business owner or fleet manager electric car charger installation requires more to be considered. You may require multiple charge points installed and have a larger incoming electrical supply. This will allow higher output chargers to be considered with dual charge points. The charger points are smart so you can program them to only be used by authorised personnel.
Installing Electric Vehicle Charging
Firstly this should be carried out by an approved electrical contractor it's not considered a DIY project. Most electric vehicles will be supplied with a 3.5kW charger that can be plugged into a socket. This is generally a temporary charging solution with a low charging rate and physical limitations of getting the EV plugged into a socket. So if you are wondering what happens during your EV charge point installation click here for information.
Secondly, the following points require planning for the charging point installation:-
Existing energy Supply is the start point and will be used to calculate the maxim charger rate.
The physical location of the electric vehicle ChargePoint and whether a wall-box or pillar is the best option.
Once the start and endpoints are agreed the cable route is planned.
The installation of the required cabling may require ducting, trunking, cable tray or conduits through drives or car parks.
Finally, once the above has been evaluated the size and type of the electrical cable can be specified.
There is a lot to consider for the correct electric vehicle charging solutions and we recommend that you take advantage of a free survey. This allows us to capture all the required information for the best solution and provide you with the best advice. You can rely on our electrical services as we are NICEIC approved giving you peace of mind knowing our work is fully audited.
OLEV Plugin Car Grant
Project Skills Solutions is OLEV approved allowing you to benefit from the government's grants for your electric car charger installation. We will guide you through this process as part of our requirement under the two schemes.
Do I qualify for the OLEV Grant
To qualify for the grant you are required to meet the following criteria:
The Vehicles is eligible for the Electric Vehicle Homecharge Scheme to check click here
You must have off-street parking
It is a hybrid vehicle from the 1st October 2016 onwards
You must use an OLEV Approved home or workplace charging point installer
PSS are OLEV Approved home or workplace charging point installers
No more than 4 months in advance of the delivery of the vehicle
The Electric Vehicle Homecharge Scheme (EVHS) provides grant funding of up to 75% towards the cost of installing electric vehicle charge points at domestic properties across the UK.
The Workplace Charging Scheme (WCS) is a voucher-based scheme that provides support towards the up-front costs of the purchase and installation of electric vehicle charge-points, for eligible businesses, charities and public sector organisations.
There are many options for your home or workplace charge point and we can recommend the best model to meet your needs. Our electrical installation services allow us to provide a total solution to any electrical works required for your EV charge point. Furthermore based in Essex we provide fast and competitive EV charger installation of all leading manufacturers in Essex and London.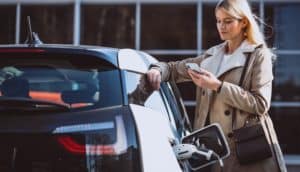 The next step is to contact us and discuss your EV charger requirement this can be done by using our contact us form or Freephone: 0800 0213 264   info@pssinstallations.co.uk
If you would like to know what happens during an EV charge point installation click here.